The reservation system for Busch Gardens Tampa and SeaWorld Orlando went live today at 10:00 AM. There were multiple reports of people being able to get reservations easily, and then other people who stated that they were unable to obtain reservations due to incorrect browsers or invalid passes. They do have a FAQ page but here is everything we were able to learn from the reservations today, as well as from Aquatica San Antonio, whose reservations opened on June 5.
First, the browser that seemed to work for everyone was Chrome. According to comments in the SeaWorld pass member page and a SeaWorld San Antonio fan page, Internet Explorer seemed to not be compatible with the reservation system. Other people were unable to make reservations on their mobile devices and even the official park apps. Chrome on a desktop seemed to be the best way to go.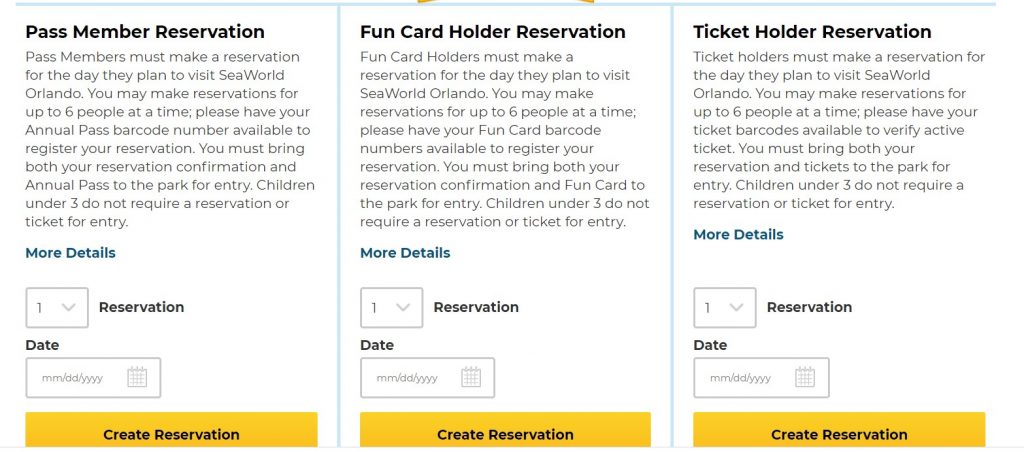 Annual passes, fun cards, friends and family passes, teacher passes, employee complimentary tickets, and single day/multi day tickets are all being accepted by the reservation system. If you wish to purchase a single day ticket, when you select the quantity of tickets you want to purchase, you will be prompted to select your date of visit. Once your transaction is complete, your single-day ticket will be date-specific and no reservation will be necessary. Teacher Card, Friends and Family Pass, and Preschool Card holders will make reservations under the Fun Card category on the reservation page.
One of the biggest questions everyone had was regarding pass member guest tickets and fifty-percent off tickets. Since the reservation system requires a barcode, there is no way to make a reservation for someone who plans to use a pass member guest ticket. (Yes, all ticketed guests need reservations. Once your guest ticket has been printed, a reservation must be made for the day you wish to visit.) For tickets being redeemed on a kiosk, the guest must accompany a Pass Member with an active reservation for admittance and entry is subject to availability. We've also received word that SeaWorld is currently working on making the "Pass Member Portal" include a section where you can print guest tickets in advance. At the moment employees who plan to visit the parks on their days off are also unable to make a reservation, as their employee ID's are not recognized by the reservation system.
The best solution for the issue above that we determined was for the pass member to make a reservation for him/herself, and then make another reservation using the same barcode for the guest. We learned that the reservation system currently checks for active barcodes, and does not stop you from making a reservation from using the same barcode again on the same day.
The other question that seemed to spark confusion was gold to platinum upgrades. If a guest had a gold pass to SeaWorld only, then he/she was getting upgraded to a platinum pass, which includes all twelve parks. The pass holders were only able to make reservations for parks their pass was valid at before the upgrade. We are hoping the parks will fix this by the time the parks reopen on Thursday.
With today being the first day of the new system being active, there are bound to be flaws and kinks to work out. So far, none of the days have filled up, including opening day and July 4, so it's very likely you'll be able to make a reservation for your desired date, even the day of the visit. Reservations are currently open through December 31, 2020, except for the dates the parks are closed. (An interesting thing to note is that Busch Gardens is scheduled to be open every day starting September, however, reservations still cannot be made on Tuesdays and Wednesdays there through the rest of 2020).
Busch Gardens, SeaWorld Orlando, Aquatica, Adventure Island, and Discovery Cove will all reopen on June 11.
Stay tuned for more from SeaWorld, and be sure to get social with us on Facebook and follow us on Twitter @BehindThrills for the latest updates!