A Guide to SeaWorld Orlando's Roller Coasters. Average queue time graphs, when to ride to avoid long lines, & what not to miss!
Are the roller coasters at SeaWorld Orlando smooth or rough? What is each ride experience like, and which ones are a must-ride? Familiarize yourself with each roller coaster at this Central Florida theme park, an in-depth guide to these massive attractions at SeaWorld Orlando.
---
Ice Breaker
Ice Breaker is built by Premier Rides, a relatively new company known for its launch roller coasters around the World. They were the first company to use Linear Induction Motor (LIM) launches on their rides over 20 years ago! Because of the high cost of this launch system, Linear Synchronous Motors (LSM) have become the norm for launched rides today, and is the type of launch you'll find on Ice Breaker! You may have ridden Revenge of the Mummy at the nearby Universal Studios, or Tigris at Busch Gardens Tampa; Premier-built rides which can be compared to this quadruple-launching roller coaster.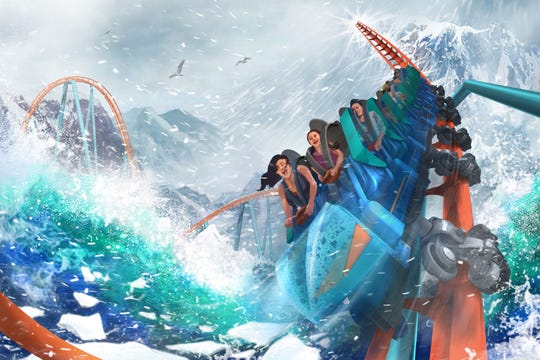 ---
A compliment to the existing Wild Arctic attraction, Ice Breaker is SeaWorld's first launch coaster. While in the queue, riders are educated on Arctic rescue and conservation through interactive exhibits.
The attraction features a reverse launch into the steepest beyond-vertical drop in Florida. From here, this simple backward-forward swing-launch turns into a full-circuit coaster like no other in the World. A tophat element followed by quick turns and airhills (where riders feel weightlessness) is just the beginning. During the return run back towards the station, you'll experience a sideways airhill just feet above the pathway.
This family-thrill coaster offers smooth rides and no inversions. It is a roller coaster that the whole family will enjoy, and one not to miss!
Ice Breaker reaches a top speed of 52mph and a maximum height of 93 feet. As a passenger you travel along 2,750 feet of track during the course of the ride thanks to a transfer-track that allows the same launch to be used 4 times in a half-pipe-like fashion, the true track length is 1,900 feet.
Height Requirement: To ride Ice Breaker you must be 52″ tall.
Best Time to Ride: Ice Breaker, being SeaWorld's newest attraction, will carry a longer wait time throughout the day, the ride also has a lower capacity than many of the other coasters inside the park. Try to arrive first to the ride or ride during or before a showing of the nearby Orca Encounter when others are busy. The worst time to ride is between 12:00 and 6:00, or anytime after the Orca Encounter show lets out.
---
Journey To Atlantis
A MACK Rides creation, this German-built attraction is a water flume/hybrid coaster. MACK has gained attention around the world for its highly themed rides and attractions. The Mack family has been in the industry since 1780 and continues to introduce new ideas to the industry each year.
Your journey starts as a calming trip to the fabled city of Atlantis, the ride then purges the traveler from its gates and plunges the transport vehicle into the water below.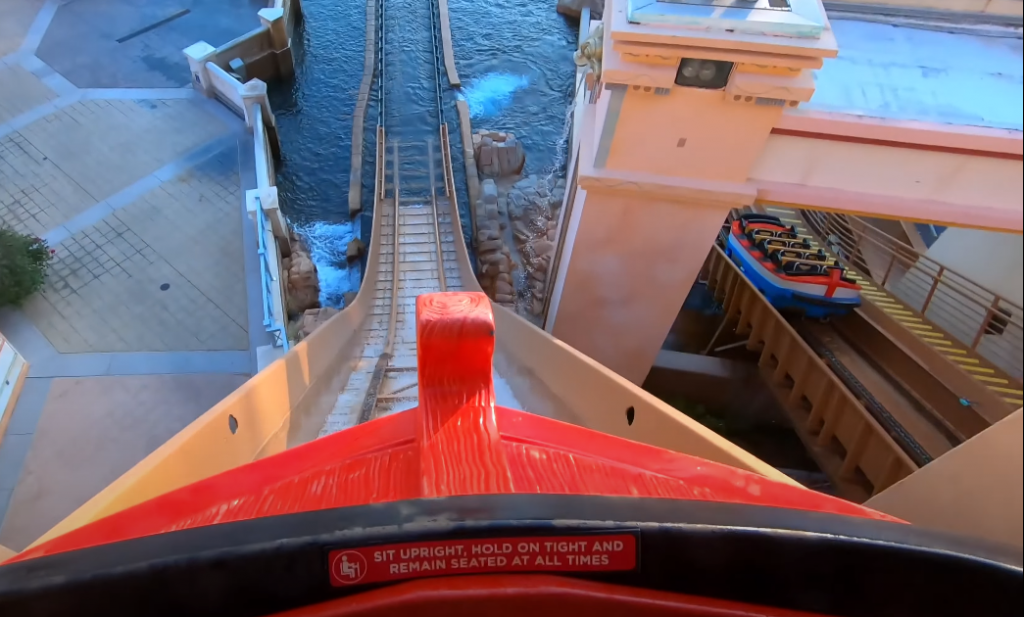 Journey to Atlantis' boats transfer onto steel roller coaster track as seen in this image, it then splashes down and disconnects from the track to be able to freely float in the channel, hence why it is called a hybrid.
---
This attraction is not too intense and is suitable for most, you can see the main drop from the pathway and decide if it looks like something you would enjoy. If you have been on a bigger log flume like Splash Mountain, or other splash-boat rides at your local theme park, you should be just fine on Journey to Atlantis. Sit further towards the back if you are trying to stay as dry as possible. You can watch a video of the ride below if you wish.
Height Requirement: To ride Journey to Atlantis you must be 42″ tall.
Best Time to Ride: Journey to Atlantis attracts a wide audience with its lower height requirement and themed setting, and for this reason, it will have one of the longer waits inside the park during a busy day. Ride early in the day before it starts to get warm out, or later in the day once it starts to cool down. The average queue time is around 45 minutes in the Summer, and around 15 minutes in the Winter, with the line starting to grow quickly around 12:00 daily, or during the end of the "Dolphin Days" dolphin show.
---
Continue to the next page to read about the "Big Three B&M's" at SeaWorld Orlando, with wait time charts and more information on the biggest and baddest coasters at SeaWorld!