We are hearing a rumor through Twitter that there is a fire at Walt Disney World's Magic Kingdom. Reports are coming in that fire trucks came streaming down Main Street. Other rumors have said that the Tomorrowland area has been evacuated.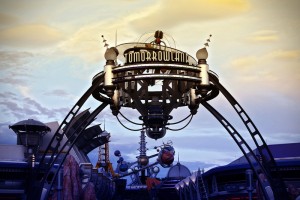 The news is coming in trickles as Disney has not confirmed whether or not there is a fire at the Magic Kingdom. Many are saying that the Astro Orbiter building is on fire. This means that it could be either the orbiter or the Tomorrowland Transit Authority (People Movers). Tomorrowland is home to not only the Astro Orbiter but signature rides such as Space Mountain, Buzz Lightyear's Space Ranger Spin, Monster's Inc. Laugh Floor (MILF) and Stitch's Great Escape.
With all the rain and high winds in the area over the past few days, it's highly likely that if there is a fire it was electrical in nature. If this rumor of the Astro Orbiter being on fire is true, this will be the second time this year that a fire has broke out at the Magic Kingdom. Earlier this year a fire in the attic of the Tiki Room attraction in the Adventureland section of the park shut down that attraction for several months. The attraction, while down for repairs, was revamped and reopened as "The Enchanted Tiki Room".
Update 11:30 a.m.:
Reports are coming in that the fire has been extinguished and thankfully there were no injuries. As of 11:30 a.m. Tomorrowland remains closed and the Tomorrowland Transit Authority had started testing vehicles. No movement was reported on the Astro Orbiter, which is the reported attraction affected by the fire.
Update 1:30p.m.
According to an official statement by Walt Disney World officials, a power outage and small fire shut down the Tomorrowland area of the park for about an hour. No cause of the fire was given, though the Astro Orbiter will remain closed pending an investigation. No injuries occurred during the fire, and no guests were on the attraction at the time.
Update 10-10-11
According to the Orlando Sentinel, an investigation determined that a hot light on one of rides decorative rings caused the fire. The plastic melted and began to smolder, it was extinguished in a matter of moments. No word on when the attraction will reopen.