The hashtag #NothingTaller has been popping up on Twitter all morning. Nothing taller than what? Apparently nothing taller than the all new attraction coming to Aquatica Orlando in 2014. What will it be? We have some theories about what you can expect to see coming to the Orlando waterpark.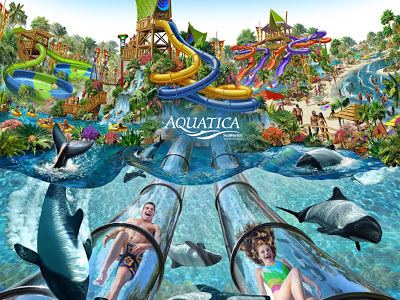 Nothing Taller in Orlando is a bold statement, yet Aquatica Orlando is making it. All morning long #NothingTaller has been popping up all over Twitter as a teaser for their 2014 attraction. No details have come out yet, although many sites have reported seeing height balloons between Omaka Rocka and the double wave pools. Aquatica opened in 2008 and added the first addition, Omaka Rocka in 2010. To say another addition is overdue is an understatement..but what?
If #NothingTaller does in fact mean a tall slide, and the tallest in Orlando, they have some mean shoes to fill.
The tallest waterslide in Orlando is highly themed Summit Plummet at Disney's Blizzard Beach. It is one of the tallest in the world at 120 feet tall. Its followed by little sister Slush Gusher at 90ft and by the grand daddy of them all, the original Der Stuka at Wet n Wild Orlando measuring in at 60 feet.
Could the family friendly park be getting a traditional "drop n scream" wedgie machine? If it's SeaWorld Orlando, we're betting there will be nothing traditional about it.
So what could we see? Here's a few theories based in chatter we've heard.
-Orlando's first looping slide:One thing there isn't enough of is looping waterslides. We could see a huge looping slide with a massive drop
-Family Tube:The family ride is always a popular attraction. Why not duplicate the zero g wall that sister park in San Antonio has with their version of Walhalla Wave. It's thrilling and HUGE!
-Stingray Falls:Aquatica San Antonio has a great slide amd animal attraction with Stingray falls. Its a family ride, but you can definitely change that dynamic up by making a speed slide version. Of course, going through a stingray tank at wedgie inducing speeds seems redundant…but still fun!
All the details will be revealed Friday September 6th so be sure to follow along on Twitter @Behindthrills for the latest.
For more information about Aquatica Orlando visit the official website by clicking here!