The @HOSInsider on Twitter has been teasing us all day with pictures of guitars and scribbles on pieces of papers, but that's nothing compared to what was unveiled today. Busch Gardens Tampa has launched their Howl-o-Scream 2010 website and it looks like things are going to rock this year.
This year's icon appears to be a rockband, who's leader is named Sylvie, whom you can follow on Twitter @SylvieMyX. She's kind of hot, like Ms. Vayne was, if you ask me.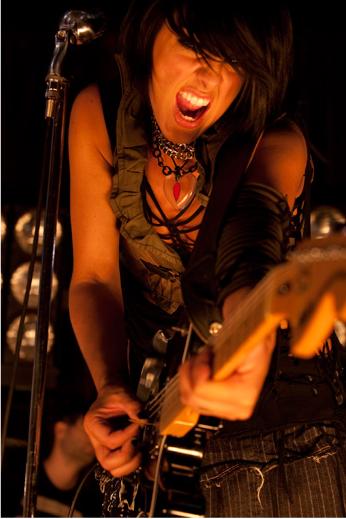 Tickets are also now on sale, as well as two packages. The first is called "Thrills and Chills", which grants the holder access to Busch Gardens and all Howl-o-Scream events for that weekend. It's valid for four consecutive days, Thursday through Sunday. The second is called the "Overnight Fright Package" which is good for one admission to Howl-o-Scream giving the holder access to the park until 1am, or 2am in some cases.
Fright Feast will be back again this year, as well as the front of the live VIP pass. New this year is an addition to the front of the line VIP Pass (Extreme) grants holders access front of the line to the coasters in the park. Also, Howl-o-Scream is offering three different VIP tours with a guide, each that has more benefits than it's preceding tour.
The event will occur each Thursday, Friday, and Saturday in September and October beginning September 24th and ends on Halloween (yes, it's a Sunday!)
For more information, check out Howl-o-Scream's official website, MyXRocks.com