Seaworld launched a social mobile application for their Halloween Spooktacular event. The application is a lot of fun and really gets families interacting with the event. The application provides users with challenges to complete and once they have completed them all, they can earn a sweet prize.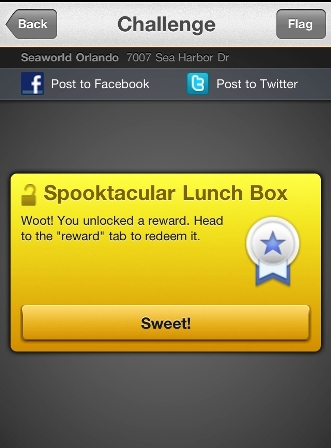 The application is free to download and play for iPhones and Android devices.
SeaWorld Orlando's Halloween Spooktacular SCVNGR challenges are:

Apple Decorating Post: Head to the apple decorating station and create a delicious treat. Which of the scrumptious toppings did you use to make the perfect candied apple? Type in your favorite topping.
Welcome Creatures: Spooktacular's hero is Otto the Octopus … but did you know SeaWorld has a real octopus, too? Snap a photo of the REAL sea creature! (Hint: Last seen inside one of Manta's aquariums).
Otto Octopus: Shamu and friends are among many fanciful creatures welcoming trick-or-treaters! Snap a photo with any character at the PPZ (Penelope's Party Zone)!
Once all the challenges are completed, you can pick up a free limited edition shamu lunch box. SCVNGR isn't just for Seaworld Orlando though! With more than 12,000 places, there's a ton more fun to be had.
To download the app for your iPhone,
click here
, or to download the app for your Android device,
click here
.