With a deadline of "late 2012" it would seem that the House of Mouse is burning the midnight oil. Construction on the all new Fantasyland area has been going for the better part of a year, and during the first week of "Mickey's Very Merry Christmas Party" into the better parts of the night.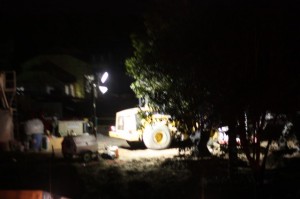 Crews were busy past 8 p.m. during the "Very Merry Christmas Party" as trucks and equipment toiled away through the darkness. The first half of the area is scheduled to open in the later half of next year, with the entire project reaching completion in 2013.
Touches such as snow and more detailed paint have been added to the rock work around not only Be Our Guest, but also the Little Mermaid building.
More Fantasyland Pictures:
[flickr-gallery mode="photoset" photoset="72157627996100845″]
Across the Seven Seas Lagoon in the Grand Floridian Resort the annual tradition of building a huge gingerbread house continues.
What is now a base layer of wood frame will soon be delicious gingerbread, chocolate, icing and sugar.
[flickr-gallery mode="photoset" photoset="72157628121222018″]
Over at the Art of Animation Resort, currently under construction, outer work seems to be near completion in some parts of the resort, while just getting ramped up in others.
White portions of the building are being filled with "sketches" of characters that are brought to life in full color on other portions of the building.
Even more Art of Animation
[flickr-gallery mode="photoset" photoset="72157627995822855″]
For more information, including tickets to the Walt Disney World Resort visit the official Walt Disney World website.