It's the most wonderful time of the year, and it's coming fast! A favorite of mine as a kid was the Advent Calendar. For those who are unfamiliar with the concept, Advent Calendars counted down the days until Christmas with fun little calendars. Usually hidden behind the numbers of the calendar were little toys or candy. Little gifts to have fun with before Christmas Day. With that in mind I present to you my calendar full of Christmas Joy. Every day we will knock another down the peg and share a bit of Christmas joy either in the form of a film, a theme park celebration or a special event or show. We will showcase something new and fun every day until Christmas! So get ready to unwrap and share some holiday cheer!
20 Days til Christmas-A Charlie Brown Christmas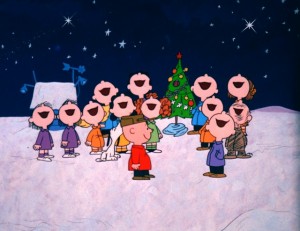 Lights please. It's not Christmas until you hear those words come from Linus in the original Christmas classic "A Charlie Brown Christmas". The gang from the Charles Schulz created "Peanuts" comic strip comes to life in a thirty minute animated special. The strips creators were funded by Coca-Cola and presented CBS with an idea for the T.V. special. The network fought Schulz every step of the way from having kids do the voice acting, to the plot, and yes-even Linus reading the story of the nativity.
The show was given a shoestring budget which lead to the choppy animation style, and cruddy soundtrack quality. When the network saw the finished product they aired it reluctantly and said that they would never be ordering any more of the Peanuts specials again. Naturally it was a hit and not only had 50% of the T.V. audiences that night, but had critics raving about the inclusion of Linus's bible passage. The show went on to win an Emmy and Peabody Award and has become a Christmas tradition for millions of families every year.
httpvh://www.youtube.com/watch?v=DKk9rv2hUfA
Charlie Brown speaking up against commercialism was a sore spot for CBS because of the fear advertisers would pull out. The message about the true meaning of Christmas rings truer these days more than ever. When people are standing in line during a holiday that you're supposed to spend with your family to get the best deal, and then someone uses pepper spray on those people to get to the head of the line, you know it's time to stop and realize that the true meaning of Christmas isn't about the material things.
And that's what Christmas is all about Charlie Brown.
A Charlie Brown Christmas airs Monday December 5th on ABC. Check local listings for times.