The New Fantasyland at Walt Disney World's Magic Kingdom is expected to take guests to a land far far away. But what does one eat when you're so far far away? Today, courtesy of the official Disney Parks Blog we get a little taste of what guests can expect to see on the menu.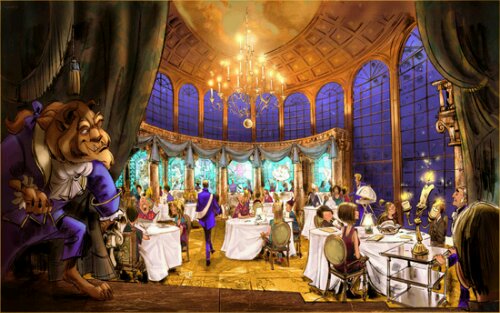 "It's all about simple, fresh ingredients," says Michael Deardorff, who has worked in Disney kitchens for 25 years. "Just like your favorite quick-service restaurants across Magic Kingdom Park, you'll be able to enjoy sandwiches and salads at Be Our Guest Restaurant for lunch, but all with a twist that transports you to the French setting of 'Beauty and the Beast."
The restaurant will feature new terminals I'm which guests order, and pay, then wait to be served on actual plates, not the traditional paper plates.
As for the menu, here are some highlights that guests can expect:
Lunch
Tuna Niçoise salad
Croque Monsieur sandwich with carved ham, Gruyere cheese, béchamel and pommes frites (fancy word for French fries)
Carved turkey on a warm baguette with Dijon mayonnaise
Grilled steak sandwich with garlic butter spread
Braised pork (cooked 8 hours!)
Vegetable quiche
Quinoa, shallot&chive salad.
Dinner
Charcuterie plate with cured meats and sausages, mussels steamed in white wine
French onion soup
Potato leek soup
Salad with champagne vinaigrette
Salad trio with three mini tastes of roasted beet, raisins and orange; green beans, tomatoes and roasted shallots; and watermelon, radish and mint.
Entrées
Thyme-scented pork rack chop with au gratin pasta
Rotisserie rock hen with roasted fingerling potatoes
Pan-seared salmon in leek fondue
Grilled strip steak with pommes frites
Sautéed shrimp and scallops with veggies in puff pastry with creamy lobster sauce
Oven-baked ratatouille
Dessert
Cupcakes – Strawberry cream cheese or Triple chocolate
Chocolate cream puff and a Passion fruit cream puff.
Kids not into fancy cuisine? No worries, they will have a menu all their own.
Carved turkey sandwich
Roasted pulled pork
Mickey meatloaf
Seared mahi mahi
Whole-grain macaroni topped with marinara and mozzarella
Dinner
Grilled steak
Grilled fish of the day
Whole-grain macaroni
This is just a sample of what guests can expect, and if course food won't be the only thing on the menu! The restaurant will be two different experiences between lunch and dinner, both with that amazing feel from Beauty and the Beast. Chandeliers, music and of course that Disney magic.
Reservations for Be our Guest begin in August, though an exact date isn't known.
For more information on reservations, visit the official website!