Brad Bird is one of the most imaginative filmmakers working in Hollywood today. His resume includes the Iron Giant , Pixar's The Incredibles, and Ratatouille as well as the live action Mission:Impossible Ghost Protocol. Very solid entries into the realm of film. It's his latest project with Disney, however that has people scratching their heads. What exactly is Tomorrowland?
Brad Bird started developing a top secret film for Disney. The working title was the only thing known about the film. 1952 was rumored to be a sci-fi adventure, and given the timeframe of the title it was guessed to be a space adventure based around the films of the time.
Then a picture surfaced of a briefcase carrying a plethora of pictures, films and nestled back behind everything…a comic. The name of the film changed to Tomorrowland and that it was to star George Clooney.
The case contains several pictures of Walt Disney himself. Could Clooney be playing a dapper Walt Disney? While it's very possible, there's also Tom Hanks who recently played Disney in "Saving Mr. Banks" the story of bringing Mary Poppins from book to the screen. Two Disneys could be in order..but given the close proximity of time, it's doubtful.
Then there's the matter of the hidden comic book.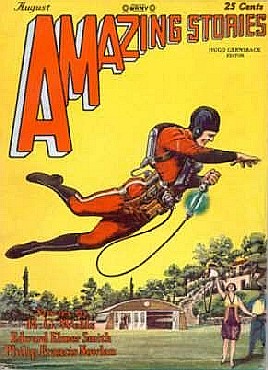 It turns out that particular comic is "Amazing Stories" which contains the story of a character that will be known as "Buck Rogers" in later issues. Could Brad Bird be making a big screen adaptation of Buck Rogers?
The issue alsi included stories from H.G. Wells who often wrote stories of the future. One more thing to remember is that Disney has had movies based on Space Mountain, the indoor space themed coaster for quite a few years now with Dwayne "The Rock" Johnson attached to star. It's quite possible that Bird has gotten a script together that tells a story of the future Eutopia that Tomorrowland represents, with Space Mountain at the center. Others have suggested that this could be a biooic in which Disney finds the inspiration for one of his key lands at Disneyland. The time frame of 1952 (the original name of the film) is just about right.
It remains to be seen, but if the film ends up being a glimpse into a Tomorrowland filled with jet packs, death rays and flying cars we could very well see a huge in park Tomorrowland overhaul.
Paging Mr. Tom Morrow….more as we hear it.