A few weeks ago a woman fell to her death (click here for story) on the Texas Giant at Six Flags. While the cause of the accident is still undetermined at this point, it is causing theme parks all over the country to reevaluate their policy on lap bars, restraints, and in some cases overweight riders. Is this a legitimate safety concern, or is it an over reaction?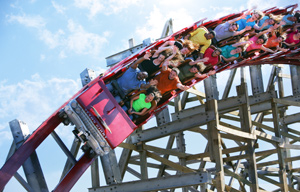 Since the accident a few weeks ago, several parks have been overly cautious when it comes to lap bars and safety restraints, and deservedly so. Several parks with extreme wooden coasters have also started not only checking and double checking restraints, but also limiting body types from riding their coasters. According to theme park industry news and rumor site Screamscape.com, parks like Silver Dollar City in Branson, Missouri have started not only tightening restraints on it's all new Outlaw Run coaster, but according to reports, turning away larger guests. According to reports from news agencies and eye witnesses, the woman who died on the Six Flags coaster was overweight. Are the steps that Silver Dollar Cityare taking a legitimate concern with their new coaster, which has three inversions and highly banked turns, or are they just being overly paranoid? According to Screamscape, not just overweight people, but people with a "football build" have been turned away.
As a larger framed person, this becomes a concern for me as well. There have been several times on a ride or coaster that I have been pushed and squeezed into a ride. Famously, a rider lost several pounds just to fit on Harry Potter and the Forbidden Journey when it opened in 2010, because he could not fit into restraints. Are restraints being shrunk down on purpose? True, dieting is always an option, but it's one that takes time and is always something that I've battled with. Will I be less and less likely to enjoy theme park attractions because of my size? It certainly appears that could be the case.
The ability for a theme park or attraction to be successful relies on the ability for people to be able to enjoy it. If theme parks start limiting the amount of guests that have the ability to enjoy a ride, it limits the amount of guests that it has. While I'm not suggesting a curb in safety procedures, many suggest that a simple seat belt could have prevented the woman at Six Flags from falling, as it could with any of the other "extreme wooden coasters". Perhaps changing restraint systems are the best option for theme park safety?
The accident also leads many to want to further regulate theme parks and safety systems (click here for the story), an industry that already has many regulations in place, in many states. Some states still have very loose regulations when it comes to theme park safety. Would it benefit more to have a blanket regulation across all 50 states to help ensure everyone is on the same page?
It should be noted that in a 10 year period, only 40 deaths on coasters were reported, and the majority of those were due to riders not following safety procedures, or natural causes such as heart attacks or strokes. Over 900 million rides are given on roller coasters every year, making roller coasters still much safer than driving in a car, or walking down stairs.
We want to know what you think. Are theme parks, and the general public getting a case of paranoia, or do you feel that there is a serious safety issue with theme parks? Let us know in the comments below how you think theme parks should handle the safety concerns?
Be sure to follow us for more info as it becomes available, and all the latest theme park fun by liking us on Facebook!