Six Flags has made a commitment to their guests to bring new attractions and experiences to every single park in thr chain, every single year. Today the park furthered that commitment by announcing new coasters, slides and attractions for every single park in the 2014 operating season. The announcement came with a few surprises as well as some expected changes and additions.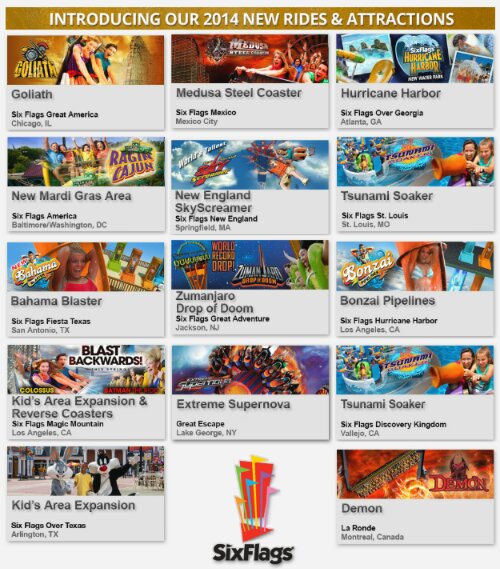 There is a bevy of new coasters and waterslides and even a few expansions thrown into the mix. We're going to run down the highlights from every single park, but keep checking back throughout the day for more details.
Six Flags Great America
Goliath-The park will add the latest member of the Goliath line of coasters with an all new wooden coaster hybrid that follows the same lines of The New Texas Giant and Iron Rattler. Goliath will be a record breaker with an 85 degree 180 foot drop, and a speed of 72 mph. The coaster will also feature two huge overbanked turns and two inversions!
Six Flags America
New Mardi Gras Expansion
Six Flags America will feature an all new Mardi Gras area which will debut two all new rides. First is the spinning wild mouse, Ragin Cajun. It's a 1,370 foot long track with full spinning cars, themed to the biggest bash on the bayou. Then you have French Quarter Flyers, a typical eagle type flying flat ride.
Six Flags Magic Mountain
Kids area expansion/coaster and backwards coasters
Six Flags Magic Mountain is putting both sides of Colossus and Batman the Ride, backwards. They are also expanding Bugs Bunny World by adding a new kids show, and kids coaster. The coaster will be the 19th coaster in the park.
Six Flags New England
New England Sky Screamer
Six Flags New England is going with the popular swing ride, Sky Screamer. The park will break a record with a 400 foot version of the ride that is at many other Six Flags parks.
Six Flags Great Adventure
Zumanjaro Drop of Doom
Attached to the world's tallest coaster, Kingda Ka, Zumanjaro will be 415 feet tall and slowly lift riders up to just below the crest of Kingda Ka. They'll be able to hear the roar of the train for a second before they fall at 90 mph, reaching the ground in just 10 seconds.
The Great Escape
Extreme Supernova
The all-new Extreme Supernova will lift riders up 50 feet in the air and flip them head-over-heels for a wild, adrenaline-packed adventure
Six Flags Over Texas
Kids Area Expansion
The children's area of the park will debut an all-new refreshing expansion. The kid-friendly section will be the perfect place for thrill-seekers-in-training with tons of new features, including an interactive play area and brand new kids' rides.
Six Flags Fiesta Texas
Bahama Blaster
Six Flags Fiesta Texas will introduce a brand new expansion and extreme new water slide complex at White Water Bay. The all-new tropically-themed area in the water park will feature several new attractions and guest amenities, including the extreme thrill slide complex, Bahama Blaster. Bahama Blaster will use a unique launching capsule to drop riders down an astounding six stories, where they'll free-fall and twist through loops and coils at 40 miles per hour
Six Flags Over Georgia
Hurricane Harbor
Six Flags Over Georgia will introduce a brand new multi-million dollar expansion and add a new in-park water park. This new area, known as Hurricane Harbor, is the largest expansion in the park's 46-year history, and will feature several water attractions and guest amenities, including thrill slides and relaxing family fun. By adding an all-new water park, Six Flags Over Georgia will transport guests to a tropical paradise, full of wave pools, slippery slides, interactive playgrounds, and fun in the sun.
Six Flags St. Louis
Tsunami Soaker
Six Flags St. Louis adds the first interactive water ride in the park. The Tsunami Soaker will be the newest addition to the park's lineup of family thrills as this wet and wild attraction provides an energetic and engaging experience like no other.Tsunami Soaker is like your classic teacup ride with an exciting twist. You and up to five other passengers will hop into one of the nine round boats that sit atop a circular floor in a pool of water. As the ride begins, the floor will lower into the water until it disappears, allowing your boat to float and splash ' 'round and 'round . Your raft will spin in circles while the other boats twist around you, creating a dizzying experience.
Six Flags Hurricane Harbor LA
Bonzai Pipelines 
Hurricane Harbor will unveil two new thrill slides, Bonzai Pipelines, that deliver free-fall excitement when the floor drops out from side by side launching capsules. You can also cool off in the Forgotten Sea Wave Pool with the all-new Dive-In Movies experience, showing some of the hottest family-friendly films at the water park. Hurricane Harbor will also feature new dining options and extended operating hours.
Six Flags Mexico
Medusa Steel Coaster
Six Flags Mexico will introduce a brand new coaster experience, the first hybrid coaster of its kind in the country. Medusa will be transformed into the new innovative Medusa Steel Coaster, featuring a slick steel track atop a wooden base and this giant beast will feature impressive heights, astonishing speeds, stomach-tightening inversions, and an adrenaline rush like no other with its steep drop, extreme turns, and twisting inversions.
La Ronde
Demon
La Ronde will introduce a high-flying inverted experience: a brand new swinging, twisting, and spinning ride. The all-new Demon will feature impressive heights, heart-racing swings, unpredictable spins, stomach-tightening flips, and soaking water jets. This new attraction will provide an adrenaline rush like no other when it lifts riders up 40 meters in the air and flips them head-over-heels, swinging them side-to-side for a wild adventure.
Which attractions are you most excited for? The coaster park chain hasn't disappointed with a few very exciting coasters. Goliath actually gets a coaster that breaks the mold of the typical steel monstrosities.
For more information about Six Flags parks, including tickets, visit the official website by clicking here!