Talk about kicking off a festival with a bang! Busch Gardens Tampa will kick off their Seventh annual Bands, Brew, BBQ event with two different ends of the musical spectrum as the park amps up for 2014. The event is returning to both Saturdays and Sundays for the next few weeks at Busch Gardens Tampa.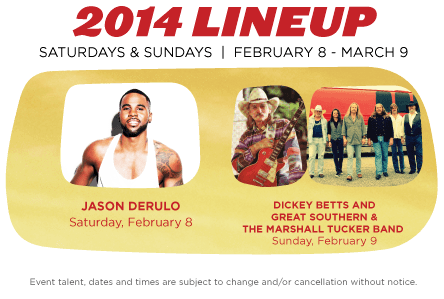 On Saturday February 8th Jason Derulo will take the stage at 5p.m. In Gwazi park. On Sunday February 9th the party continues with Rock-n-Roll Hall of Famer Dickey Betts and Great Southern, followed by The Marshall Tucker Band.
 All concerts are included with theme park admission and seating is on a first come first serve basis. Busch Gardens Tampa has faced backlash after the release of the anti-SeaWorld film Blackfish Caused protesters to gather online petitions to keep bands from playing at both SeaWorld and Busch Gardens parks leaving bands like Pat Benetar and the Beach Boys to cancel. These two bands, much like the bands now scheduled at SeaWorld are a definite step up from those who caved in under pressure.
Still, the music is only a small portion of the event. The park is once again bringing back the mouth watering BBQ and the unlimited beer wristband.
Here's more information:
Brew

The beer lineup at Bands, Brew & BBQ will showcase more than 100 imported, domestic and craft beers.

Select brews are available at each of the tents along the Bands, Brew & BBQ pathway, as well as in Gwazi® Park. For those looking to sample several of the specialty brews, unlimited sampling is available from noon to 5:30 p.m. every Saturday and Sunday with a beer sampling wristband.

Wristbands are $30 per person (ages 21+), or 2 for $50 for active Busch Gardens® Tampa Pass Members, and also include sampling privileges at the Desert Grill® restaurant, Crown Colony® pub, Garden Gate Café and Zambia Smokehouse.

BEER LIST:

Magic Hat Brewing Co.
#9 | Pistil | Encore

Victory Brewing Co.
Hop Devil | Red Thunder | Swing | Dirt Wolf

Southern Tier Brewing Co.
2XMAS | Compass | 2XSteam | Krampus

Blue Point Brewing Co.
Toasted Lager | Hoptical Illusion | Mosaic Session IPA | Spring Fling

Kona Brewing Co.
Longboard | Firerock | Big Wave | Koko Brown

Redhook Brewing Co.
Longhammer IPA | Pumpkin Porter | Audible Ale

Widmer Brothers Brewing Co.
Hefeweizen | Alchemy Ale | Hopside Down IPL

Omission
Lager | Pale Ale

Goose Island Beer Co.
312 Urban Wheat | Honkers Ale | IPA | Ten Hills

Green Flash Brewing Co.
West Coast IPA | Green Bullet | Saison Diego | Treasure Chest

SweetWater Brewing
420 | IPA | Blue | Whiplash

Capital Brewing
Supper Club | Hop Cream | Wisconsin Amber

Steven's Point Brewing Co.
Pale Ale | Belgian White | 2012 Black Ale | Ciderboys First Press

Aviator Brewing Co.
HotRod Red | Hog Wild IPA | Devil's Tramping Ground | Mad Beach

St. Arnold Brewing Co.
Elissa IPA | Fancy Lawnmower | Spring Bock

Florida Ave Brewing Co.
Florida Ave Ale | Florida Ave IPA | Florida Ave Blueberry | Florida Ave Betchy Brown

Tampa Bay Brewing Co.
Old Elephant Foot IPA | Midnight Crossing Black IPA | One Night Stand | Ole' Hop Hoarder Imperial IPA

Big Storm Brewing Co.
Wavemaker Amber | Palmbender Pale Ale | Arcus IPA | Firestorm Black IPA

Bold City Brewing
Dukes Cold Nose Brown Ale

Pensacola Bay Brewing Co.
Lighthouse Porter | Banyon Brown

3 Daughters Brewing
Summer Oatmeal Stout | Beach Blonde Ale | Brown Pelican Dunkelweizen

Vermont Cider
Woodchuck Amber | Woodchuck Pumpkin | Woodchuck Pear | Woodchuck Winter | Woodchuck Granny Smith | Woodchuck Private Reserve Bourbon Barrel Aged | Magners | Hornsby Amber

InBev
Stella Artois | Stella Cidre | Hoegaarden | Leffe | Becks Sapphire | Becks Oktoberfest | Bass | Boddingtons

Anheuser-Busch
Budweiser | Budweiser Black Crown | Bud Light Platinum | Bud Light Lime A Rita | Bud Light Cran-Brrr-ita

Shock Top
Shock Top Belgian White | Shock Top Pumpkin Wheat | Shock Top Honeycrisp Apple Wheat | Shock Top Raspberry Wheat | Shock Top Chocolate Wheat

Michelob Brewing Co.
Rolling Rock | Landshark | Amberbock | Michelob Ultra Pomegranate

Crown Imports
Corona Light | Modelo Especial | Negra Modelo | Pacifico

US Beverage
Estrella Damm | Estrella Damm Daura | Estrella Damm InEdit

North American Beers
Labatt Blue | Labatt Blue Light | Medalla Light | Cayman Jack

European Beers
Tennent's | Krombacher | Krombacher Dark | Staropramen

Coppertail Brewing Co.
tbd

Beer selections are subject to change.

BBQ

Each weekend different chefs will be cooking up their specialties:

Outback Steakhouse
Bloomin' Onion®
BBQ Wood- Fire Grilled Wings
Moonshine BBQ Ribs
Moonshine Pulled Pork
Jalepeno – Bacon Mac & Cheese

Kojak's House of Ribs
Hot Smoked Georgia Sausage
Ribs
Chicken
Pulled Pork

Smokey Bones
Smoked Wings
Hand Pulled Pork Sandwich
Ribs
Chopped Chicken Salad

Smokin' Busch Gardens BBQ
BBQ Beef Brisket Sandwiches
Pulled Pork
Chicken and Waffles with Red Pepper Flake Syrup
Grilled Hot Dogs and Bratwurst
BBQ Chicken Skewers

Penguin Pretzel Factory: "Soft Baked Pretzels…With a Twist

Restaurant partners are subject to change and/or cancellation without notice.
That is a tasty list! VIP tickets are currently available but go very fast. They give you priority seating and in some cases food!
For more on Bands, Brew, BBQ stay tuned as bring you the latest. Be sure to follow along on Twitter @BehindThrills for the latest updates.
For more information visit the official Busch Gardens Tampa Bay website by clicking here!