According to Inside the Magic, we've got a good idea of another house to expect at Halloween Horror Nights this year. According to the site, a video was uploaded and made public briefly, then promptly made private. That video was the announcement of yet another property coming to both Universal Studios Hollywood and Orlando for this year's Halloween Horror Nights. It looks like guests will be able to try and survive vampires as they go through From Dusk Till Dawn.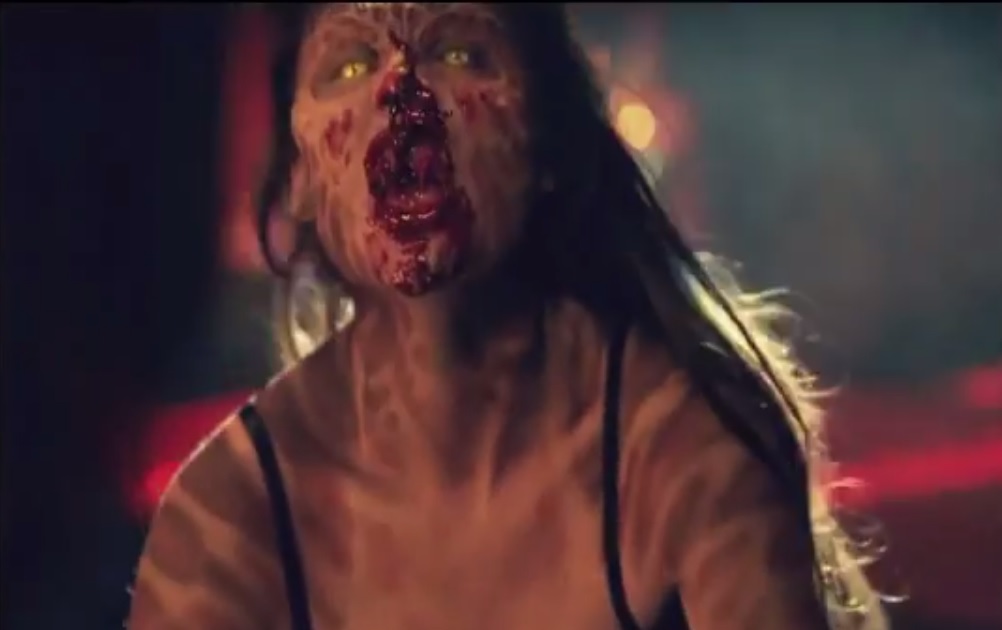 Before you get too excited thinking that Universal is working with Quentin Tarantino, the new house is based on the show from creator Robert Rodriguez and his new Latin network, El Rey. The network made it's debut last year with From Dusk Till Dawn as one of the launching series. The series follows a similar story as the film, with killers going on a rampage and finding refuge in a strip club, only to realize too late that it's actually a nest for vampires.
The official announcement from Universal is now online!

The original film featured a plethora of nudity, and violence as well as foul language. It's going to be interesting to see just how far Universal is willing to push it with From Dusk Till Dawn. A rating guide on IMDB lists moments of brief nudity, adult language and of course violence. How much of that will make it into the maze? Also, the biggest question is, will we see the "Titty Twister"?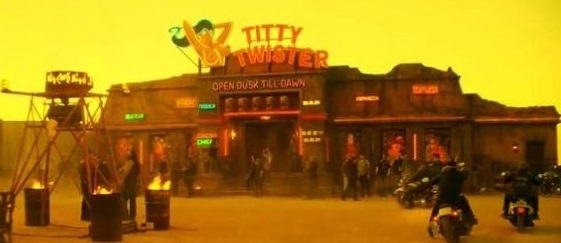 The house will see guests actually venture through the Titty Twister, a strip club in which "vampire-like creatures" lure men to feed on. In the video Rodriguez says that yes, you will be lured in with the snake dancer (just like the film, and apparently the series) and then guests will be thrown into the mayhem of trying to survive.
"Universal Studios' 'Halloween Horror Nights' event is the ideal platform to take fans of 'From Dusk Till Dawn' to literally experience the terror of stepping into the show," said Robert Rodriguez.  "It has been an incredible opportunity to work closely with the Creative teams at both Universal Studios Hollywood and Universal Orlando Resort to bring this maze to life with such detail and authenticity.  This maze will capture the visceral excitement and thrills of the series, and I can't wait to experience it myself."
Watch the cast talk about the house, and go in depth about the story

Hopefully Rodriguez is working closely with Universal on the house, as many filmmakers have in the past. He has a very unique style that could translate into a very sick and fun house, if done right.
This isn't Universal's first jump into the world of the Titty Twister. In 2005 Universal Orlando featured the house "Demon Cantina" which was a very loose interpretation of the film. It featured vampires, strippers, and vampire strippers.
Halloween Horror Nights is already billed as an event for those over 13, and while the nudity is most definitely out, it's going to be very interesting to see how far they push it. With characters like "Sex Machine" with a crotch gun, and Chet Pu…., well…Chet, as part of the line up in both the film and the series, this house promises to be at least one of the most controversial, and hopefully fun in recent HHN memory.
This year's Halloween Horror Nights in both Hollywood and Orlando have announced that they will be bringing the world of the Walking Dead back again for more zombie mayhem. The rest of the houses and entertainment will be announced in the coming weeks. Follow the official Hashtag #UniversalHHN for more updates from the two parks.
Stay tuned for even more from Halloween Horror Nights, and be sure to get social with us on Facebook, and follow along with us on Twitter @BehindThrills for the latest updates!
For more information about Halloween Horror Nights, including tickets, visit the official website by clicking here!