Scare LA was the little horror convention that could last year. It brought together some of the biggest names in the haunted attractions industry and even bigger announcements as Halloween Horror Nights Hollywood and Knott's Scary Farm made major announcements about last year's event at the convention. This year, it's back and to say it's bigger is a bit of an understatement. Beginning August 9th, there will be more haunted announcements, special panels and classes during this huge two day haunt fan extravaganza!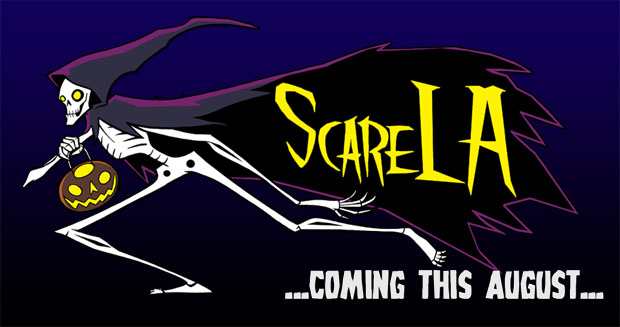 Scare LA will bring in a month's worth of special presentations, in just two days. Every major haunted attraction in the Southern California area will be on hand to not only show presentations, but also to make huge announcements about this year's haunt season.
Here's the run down of special announcements and guests:
Delusion: One of Southern California's top haunted attractions, Delusion will be designing the entrance to this year's event. It will use certain themes from the past, and even give hints at this year's event. Every year Delusion changes the theme, and sometimes the location. This year is no exception. The haunt will be holding open auditions at Scare LA for those interested in performing. This event is produced by Neil Patrick Harris, among others.
Disneyland:Okay so not Disneyland, but legendary Imagineer Bob Gurr will be on hand to talk about his involvement in legendary dark ride, and haunted house The Haunted Mansion.
Knott's Scary Farm: After 42 years scaring the daylights out of their guests, Knott's will be once again on hand to give away some secrets from the legendary haunted event.
Universal Studios Hollywood: Creative director John Murdy, and art director Chris Williams will be on hand to not only talk about how they bring terror from the screen to the streets of Hollywood, but also to reveal something about this year's Halloween Horror Nights
Garner Holt: Legendary dark ride designer, and haunt fan, Garner Holt will be on hand to talk about his time working in the haunt industry
Queen Mary-Dark Harbor: The creative team behind one of the most unique haunted attractions will be on hand this year, once again, to talk about putting together a haunted attraction on an actual haunted ship. They will give fans a sneak peek into this year's event
Making Monsters:  An unprecedented presentation as representatives from Knott's Scary Farm, Queen Mary's Dark Harbor, Six Flags Magic Mountain's Fright Fest, and Universal Studios Hollywood's Halloween Horror Nights take to the stage as a group to discuss the challenges and logistics of creating huge armies of monsters and madmen that inhabit each of Southern California's largest theme park Halloween events
On top of all the different panels, there will also be huge classes that will give you the tools you need to transform yourself into a monster maker. There will also be a huge list of vendors for your home haunt needs.
There are several different types of tickets, ranging from regular day tickets to all access VIP tickets that give you access to everything at Scare LA. Tickets are on sale, and will sell out!
Stay tuned as we bring you even more gory goodness, and be sure to get social with us on Facebook, and follow along with us on Twitter @BehindThrills for the latest updates!
For more information about Scare LA, including tickets, visit the official website by clicking here!