Rob Zombie's Great American Nightmare took the world by storm with a walk through the films, mind and nightmares of Rob Zombie. It brought three all new haunted attractions to life in Southern California, and was a huge hit. This Zombie takes the show on the road and goes to Arizona to bring the terror to a whole new group of fans. While the event has been announced for Scottsdale Arizona (click here for info), Rob Zombie has blindsided everyone by bringing yet another location to life this year. Get ready Chicago, The Great American Nightmare is blowing through!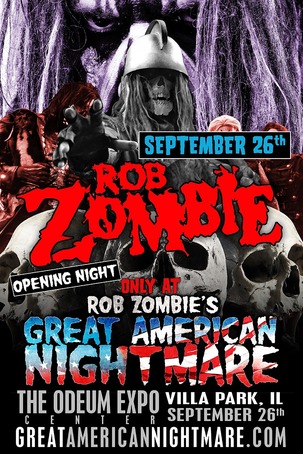 In just it's second year, Rob Zombie's Great American Nightmare is growing! The event has already moved from California to Arizona, where it will feature an opening night concert with Rob Zombie and Powerman 5000 on September 19th. But, as they say, the sickness is spreading.
On September 26th, one week later, Rob Zombie will invade the Chicago area as he opens the second Great American Nightmare location in Villa Park, IL. He will also be performing live opening night at that venue.
"I am thrilled to be able to expand the Great American Nightmare to TWO new cities this year," said Zombie. "My only goal is to make it twice as sick as last year."
"After the tremendous success last year we all felt we wanted to bring Great American Nightmare to as many people as possible," says Great American Nightmare producer Steve Kopelman. "Chicago is a haunted house hotbed with the Odeum Expo center being the go-to haunted house venue for the past two decades. We really feel the Midwest will welcome this event with open arms and this will be the ultimate Chicagoland Halloween event."
The all new haunted event will feature haunted mazes from three of Rob Zombies films, and all designed to take you through the nightmareish worlds that Zombie has helped to create.
Here's the line up for Illinois:
The Lords Of Salem In Total Black Out: This harrowing attraction–based on Zombie's 2012 The Lords Of Salem independent horror film–is designed to twist the mind. It will accentuate some senses while limiting others. Fear of the dark, claustrophobia, and fear of the unknown will be preyed on as the visitor attempts to traverse this sixty-degree maze.
The Haunted World Of El Superbeasto 3D: Utilizing Chromadepth glasses, this innovative attraction will take the patron right into the middle of the irreverent world of Rob Zombie's El Superbeasto 2009 animated exploitation musical horror comedy film based on the comic book series of the same name. The attraction's unique surprise entrance, brilliant colors, sudden chills and startling thrills, and salacious humor will make patrons scream with fright and laughter.
Haunt Of 1,000 Corpses: This terrifying attraction pays homage to the exploitation horror film House Of 1,000 Corpses, directed by Rob Zombie. The extreme, traditional haunted house will take visitors on a walking journey through a recreation of the film's "Museum of Monsters & Madmen" along with an expanded "Murder Ride," confronting notorious serial killers along the way. This high impact, highly detailed attraction will use state of the art animatronics, video effects, costuming, sound, scents and lights.
Last year the California haunts featured the same three mazes, all three were sick in their own right. Haunt of 1,000 Corpses was filled with tons of killer fun, and of course Fried Chicken.
Video-Walk through Haunt of 1,000 Corpses
http://www.youtube.com/watch?v=sgoo9xDq5wc
El Super Beasto was a bit irreverent, and used comedy to set the tone. Of course, it doesn't hurt that you're walking through a womans'…naughty bits, to get inside the house!
Video-Walk through the world of El Super Beasto

It's very likely that we could see Great American Nightmare spread to more cities throughout the country by the time it's all done. Would you like to see a nightmare come to your town? Tickets for both events are now on sale.
Stay tuned as we bring you more haunted Halloween fun, and be sure to get social on Facebook, and follow along with us on Twitter @BehindThrills for the latest updates!
For more information about Rob Zombie's Great American Nightmare, including tickets, visit the official website by clicking here!