Sitting in the Aurora, IL city limits is one of the most intense haunts I've had the pleasure of experiencing this year. While unassuming on the outside, Basement of the Dead harbors a dark, murderous evil in its depths. Al & Imus Kilya have taken up residence, and visitors who make the mistake of entering this subterranean hell must find their way out while evading the clutches of psychopaths, murderers, monsters, and worse. Those who are particularly unlucky may also stumble into the neon-colored nightmare world of Shattered 3D, a realm come to life from the twisted mind of Shattered the Clown, who, after going on a murderous rampage, escaped into the Basement, and is now looking for some fresh meat for his circus of horrors. At 15,000 sq ft, this haunt has been open since 2003, and current owners Todd and Tressa are always looking for ways to make it even bigger and better. The house designers, brothers David, Jason, and Craig, grew up running their own home haunt, and have turned their passion and expertise into a can't-miss attraction.
Basement of the Dead is dark, grimy, and visceral.  You won't find large Gothic mansions or moonlit graveyards here. Instead, the entire house is designed to get you up close and personal with the scares. You'll make your way through sewer tunnels, abandoned back rooms, hallways, and other claustrophobic environments that feel like they oozed out of a sociopath's fever dreams. The attention to set detail is spot on, and the designers fully capitalize on their location. The theming and set dressing is immersive; even the ceilings are dressed to sell the environment. Special effects and animatronics are used sparingly but effectively to flesh out the sets and help sell the reality of the world. Sound pollution from other rooms is almost non-existent, and lighting is completely controlled to limit visibility to only show what the designers want you to see. You may often find yourself questioning whether or not you just saw something move in the darkest corners.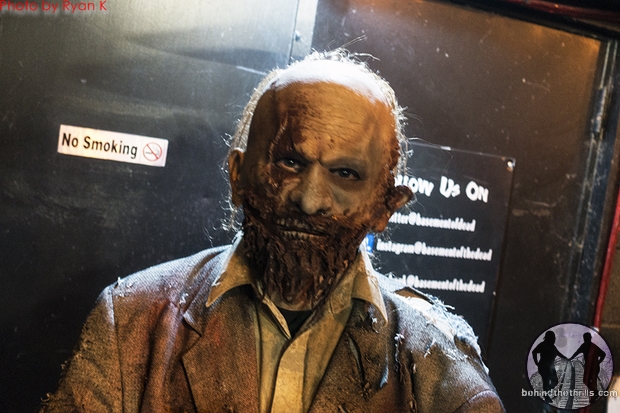 The scares are aggressive and unrelenting, but are also on a level of intimacy that separates this attraction from other haunts. The actors fully capitalize on the tight quarters to wait until you're almost on top of them to terrify you. There's no escape, and nowhere to hide. One particularly effective scare was in a dark section of the maze. We were fumbling our way through the inky darkness after a scare in the previous room, and a whisper, barely audible but extremely close, floated out of the darkness: "I'm still behind you." It was a chilling moment and drove home the point that the nasties waiting in the dark were close, and in control. Tressa elaborated, "We train our actors to…try and hit people with more than just one scare; to turn around and get them in another scare." And that follow through for multiple scares was felt throughout the house.
Shattered 3D, the second house at this attraction, is the tonal opposite of Basement of the Dead, but just as effective. Colors are vibrant, and the effective use of different shades of color creates a textured, layered 3D look to the sets. The 3D effect in this attraction is expertly done; nothing feels flat or out of place. Shadows are non-existent, and the sets, props, and characters are cartoonish, larger than life, and sinister. Adding to the visuals is the sound design. Not solely relying on circus music, other little bits are thrown into the audio mix to add a creepiness and cacophony of noises to disorient visitors. The actors are fast, loud, and pop out of the environment at you. It's unclear at times what's a real person and what's a prop. Character interaction was very good, with the actors at the front of the haunt and the elevator being particularly engaging. They set the tone and energy level of the house wonderfully. Shattered 3D is a chaotic journey into madness, effective in its use of discordance and sensory assaults to create tension and heighten scares.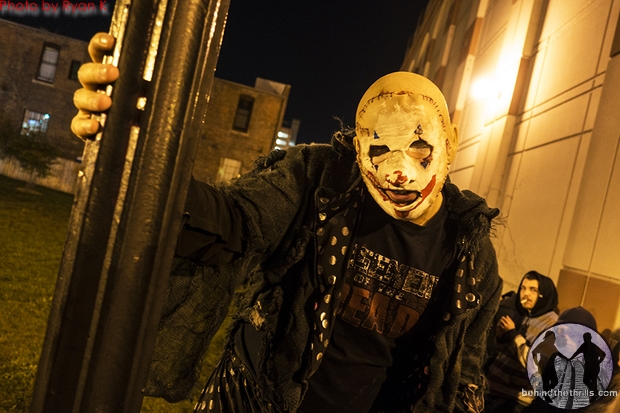 Basement of the Dead is a fantastic haunted attraction, and it's very easy to see why there was such a large crowd waiting in line so early in the season. For as many people as there are, flow control is handled extremely well in both houses; we never ran into another group. There is also plenty of queue line entertainment, with a live DJ and between 10 to 15 actors outside on an average night.
Long lines are the norm here, but the wait is well worth it. David told us "We've got a lot of people running, screaming their heads off, saying this is the scariest place they've ever seen in their life." They've even had people wait in line for hours, only to refuse to enter when they get to the entrance. If you like your haunts intense, aggressive, and relentless, then Basement of the Dead and Shattered 3D is where you need to be this season.  And be sure to come back in the off-season as well, as Basement of the Dead offers Zombie Outbreak when they're not terrifying guests, an interactive experience where you can shoot zombies while trying to avoid being bitten.
Slideshow-Venture further into the Basement with more pictures!

Basement of the Dead is currently running select nights through November 1. Tickets are $18 for Basement of the Dead, $25 for both houses, and $45 for VIP. Discounts are available on-line. The event is not recommended for children under 13.
Stay tuned for more gory goodness, and be sure to get social with us on Facebook  and follow along with us on Twitter @BehindThrills  for the latest updates!
For more information about Basement of the Dead, or to buy tickets, click here!