Busch Gardens Tampa has come off a great year with the opening of Falcon's Fury, as well as a huge Howl O Scream. This year the park is making a splash with Adventure Island, the park's waterpark directly across the street. The waterpark is adding the all new Colossal Curl, a multi-person slide which will take guests down a huge tube and up a zero-g wall. The park is also making room for something else within the park, adding construction walls and stakes to the area that use to house the Critters Castaways show. We take a look at the projects, as well as several other happenings in the park.
Outside the park, huge pieces of the all new Colossal Curl can be seen being assembled. The huge pieces weigh approximately 58,000 pounds and were made in Ontario, Canada. There are 400 pieces to Colossal Curl, and you should start to see them being put into place in the very near future. It will be the first slide of it's kind in Florida, though the slide has already made it's debut at Water Country USA at Busch Gardens Williamsburg.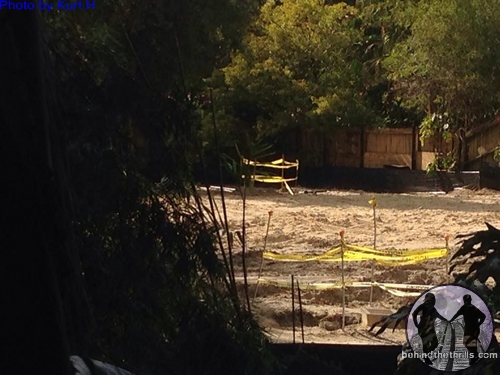 Over at Busch Gardens Tampa, there are some developments happening within the old area of the Critters Castaway section of the park. The area was closed when a new version of the show moved to Pantopia in an all new theater. There's no clue as to what is going in, but the sections that are posted off look like the possible beginnings of footers. Footers for what? We're not exactly sure, but it doesn't appear to be a coaster, as there aren't enough areas marked off for a new coaster. There is a strong rumor that Busch Gardens Tampa will get an all new coaster in 2016, but that coaster is rumored for the Egypt area by Montu and behind the Tut's Tomb exhibit. It's also rumored to be a replica of the coaster going in currently at Busch Gardens Williamsburg, that appears to be a shuttle coaster.
Meanwhile at Falcon's Fury, photographers were spotted at the ride, testing out PhotoKey. According to employees in the park, they are testing the option for 40 days to measure interest in the on ride photo options. Who wouldn't want a picture as they plummet face down 335 feet? The terror is always hilarious.
Stay tuned for more from Busch Gardens, and be sure to get social with us on Facbeook, and follow along with us on Twitter @BehindThrills for the latest updates!
For more information about Busch Gardens Tampa, including tickets, visit the official website by clicking here!