Pixar has been hit or miss on a personal level lately. While every single Pixar film has been a huge hit, they haven't been hitting home as often as they use to. The last cinematic outing, Monster's University, left audiences shrugging, and left Pixar without a film in theaters for two years. Inside Out fills the void, as the first of two Pixar films this year (the next being The Good Dinosaur) but while it brings back the…emotional connection, does it have the same heart that made us fall in love in the first place?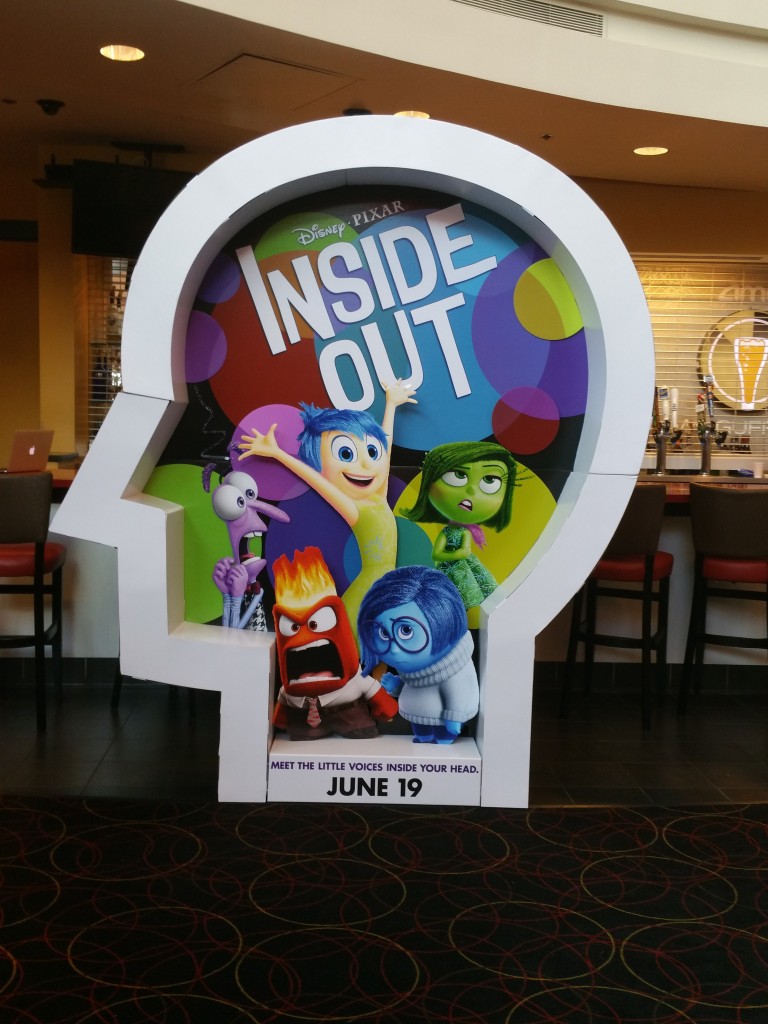 The Story
The story looks like a mix of the old show, Herman's Head and Cranium Command at Epcot's Wonders of Life pavilion. It tells the story of Joy, Sadness, Anger, Fear and Disgust. They all live to help out Riley, the girl who's emotions they control. Riley is a typical kid from the Midwest, and life is great. Joy, has an amazing time helping Riley grow up, and have great days. Every time something happens to Riley, it's stored as a ball of memory. Every time something major happens in Riley's life, it's a glowing piece of wonderful called a core memory. As one might imagine, the life of a kid who's parents are happy and has a great home life is pretty great, so Joy dominates all of Riley's core memories. Then the family moves as dad starts a new, potentially huge career, in San Francisco. From there, Riley's life is turned upside down as Sadness starts to show more of herself than before. Things go crazy, and Joy and Sadness end up in Riley's mind, outside of "Master Control".
Was it good
The film takes the idea of emotions being in control, and runs with it. It uses Amy Poehler as Joy, and Phyllis Smith as Sadness to their fullest. The depth these two bring to the characters are great, and shine in the film, as does Richard Kind as Bing Bong. We won't tell you much about Bing Bong, he's an amazing thing you need to experience on your own. The other players, especially Lewis Black, are nothing more than a supporting cast, and by the end of things, you're ready for them to kind of go away. Sure, they bring plenty of laughs, but the other emotions work best in the background, while Fear and Joy do their thing.
Being a father who raises his kids (without their mother) the film touched me on a hugely emotional level. It brought back so many great things, and so many wonderful fears of my own. It's also very interesting to see what goes on in mom and dad's heads. Take a look who controls each of their emotions, and who's sitting in the "big chair". It will give you an idea of how the movie is going to go.
Emotion is a very large part of our lives, and as the film shows, we can either let it run away from us, or we can learn to control it. That's the thing that Inside Out misses, for me. While the heart of the film is all about our emotions getting lost, and the effects it has on us, it misses that in the end, we make our own decisions, and we all grow despite our emotions. It touches on scenes about depression, and even bad ideas. While that's not a bad thing, (because who wants a kids movie filled with depression and regret?),  it's glossed over here so quickly that it feels kind of empty.
The movie also feels very formulaic. You know where it's going to go, and almost how it's going to happen.
Despite the little empty feelings, and the bit of flaws, the film does deliver fun, and a good story. It still just feels like it was missing the heart that made us fall in love with the other Pixar films, like UP and of course the Toy Story films.
Lava
Of course at the beginning of every Pixar film is a short, and this one is no different. Lava is the story of a lonely volcano who sings a song and just wants someone to love(ah). It's cute, and if you're romantic at all, it touches you as time passes and the volcano becomes more lonely. The story, and music, is inspired by Hawaiian  legend, Israel Kamakawiwo'ole, specifically his cover of "Over the Rainbow".
The landscape and animation is beautiful, and the story is cute, short and extremely simple.
Inside Out in Parks
Naturally Disney could take the chance to make the transition from films to the parks, and they will in California. The characters will be the focus of the pre-parade at Disney's California Adventure for Pixar Play Parade. (Details here)
Disney Parks Blog recently rolled out the characters for a brief meet and greet with their fans,  but according to them, they will not appear in the park. We are hearing about rumblings for a new attraction in Epcot somewhere…unfortunately, not the Wonders of Life Pavilion.
Pixar's Inside Out hits theaters Friday June 19th. It's definitely a fun film for the entire family, and makes for a great break from Dinosaurs and super heroes.
Stay tuned for more from Disney, and be sure to get social with us on Facebook, and follow along with us on Twitter @BehindThrills for the latest updates!