It's been a crazy week for Star Trek fans, with the debut of the new (and very well received) Star Trek Beyond trailer, as well as a huge press event held at Paramount Studios honoring the franchise as well. The big reveal at the end was that the premiere for the 3rd and final film in the popular Star Trek film series will be held at geek mecca itself, San Diego Comic-Con this summer!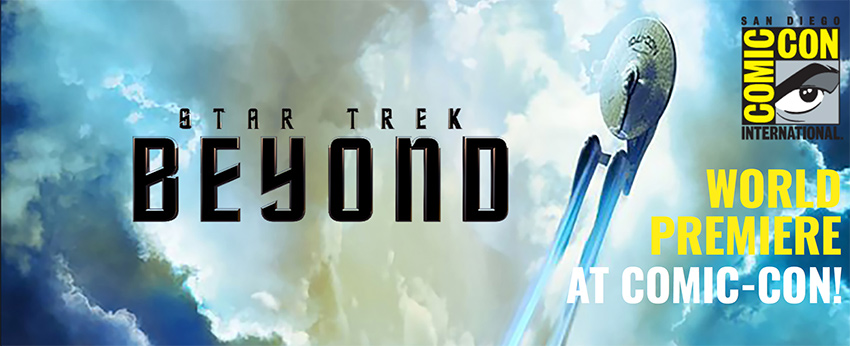 The premiere will take place at Comic-Con on Wednesday, July 20, at the Embarcadero Marina Park. The same location that last year surprised fans with a special firework show and orchestra performance directly after the panel for Star Wars: The Force Awakens.
The red carpet event at San Diego Comic-Con, which marks the first-ever open-air IMAX world premiere, will feature special appearances by Lin and the "STAR TREK BEYOND" filmmakers and cast, as well as a live concert performance of Academy Award®-winning composer Michael Giacchino's film score by the San Diego Symphony Orchestra. Lin made the announcement at the STAR TREK FAN EVENT, where all fans in attendance were invited.
"I am thrilled to celebrate the premiere of the film together with the fans at Comic-Con and excited for everyone there to experience Michael Giacchino's incredible score played live," said Lin.
Added David Glanzer, spokesperson for Comic-Con International: "We are both privileged and excited that Paramount Pictures, Skydance and Bad Robot have chosen to honor fans by having the world premiere of the next chapter of Star Trek at Comic-Con this summer."
Currently there is no official word on how to get tickets to the premiere but it was started that attendees will get the chance closer to the actual event in July.
Are you excited about Star Trek Beyond? Let us know in the comments below!
Stay tuned for more Comic Con goodness, and be sure to get social with us on Facebook and follow along with us on Twitter @BehindThrills for the latest updates!