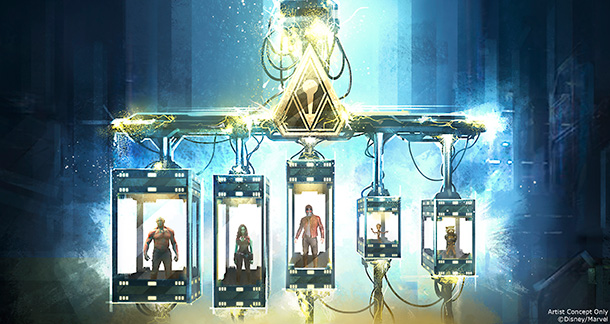 Last week, Disneyland announced that it would be completely shutting down Tower of Terror and bringing a huge overlay of Guardians of the Galaxy to the ride instead. Immediately fans pounced on the idea and screamed about how terrible it was. Many vowed to never return again. We'll see. On the East coast, fans and visitors wondered what will happen to Tower of Terror at Disney's Hollywood Studios. Was it safe? Would it be gutted and turned into a Marvel attraction? After all, there are rumors that Disney is looking at bringing the attraction to Florida as well. The short answer is, don't worry…yet.
Tower of Terror at Disney's California Adventure was not the original attraction. In fact, there is no ride like the original. Where clone versions of the attraction gives you the same kind of theme, it doesn't come close to the original as far as story and layout. The original has an entire "Fifth Dimension" segment that the Disneyland version simply does not have…nor does any other version. What does that have to do with anything? Well, apparently a lot. It's part of the reason that Tower of Terror is not getting the overlay treatment in Florida. There is a rumor of a replacement…but more on that in a bit.
The rumors, from many sources, have Ellen's Energy Encounter being completely demolished. While people are upset at the thought of losing an original Epcot ride, Universe of Energy has kind of worn out it's welcome…and it's 40 minutes long. We're not exactly sure what kind of attraction the Epcot version of Guardians will be. Some say it will be a Tower of Terror clone, with a toned down ride experience, and nowhere near as intricate as the Florida version. Others say it will be a shooting game, kind of like Buzz Lightyear. There's even word of a new roller coaster in which you race around the dark trying to help the Guardians. No matter what it is, it will take up a huge portion of the area, and block the view of Spaceship Earth a bit.
The bigger picture is that it's part of a planned new area. There are rumors that not only will Ellen get removed, but Wonders of Life could become a Tron Lightcycle Coaster, like in Shanghai. Mission Space could get an overlay to a new attraction, and Gary Senise and the Mission to Mars would be scrapped. You'd still be piloting a rocket, but instead of a training mission, it would be something like an escape mission. That leaves only Test Track untouched. The new area would be a futuristic Adventureland, where we explore different technology, kind of like now…but in the future, they're going to be themed to a huge property of some kind. There's even rumor for a new attraction in that area, but given the space…it doesn't seem likely.
As for Twilight Zone? Well, remember that one big rumor of the huge change is that the contract that keeps Twilight Zone in the park has expired. This isn't exclusive to California. One big rumor is that the ride will stay the same, it will remain the Hollywood Tower Hotel, BUT…the owner and story would change slightly. Instead of being blasted into the Twilight Zone, the story would be switched to one that's similar to DisneySea's version. In that version, a rich explorer finds a cursed idol. It's the idol that sends people to their doom. Instead of just the Fifth Dimension, we could be transported to another realm where we come face to face with the spirit of the idol, just before we are dropped to our doom. That's one scenario…the other is that there is a Tower of Terror movie in production. While the name is the same, the story is allegedly a bit different. If that movie is a success, then we can probably expect to see the ride take on the movie storyline.
The scare factor is still kept the same, but we get a change of ownership, a different catalyst, and the same results. A scary ride.
These are all rumors at this point, and while we don't know if any of it is happening for sure, it's just fun to talk about and contemplate. Keep in mind that plans change all the time, and until Disney announces that it's happening, it's just not happening.

Stay tuned for more from Disney, and be sure to get social with us on Facebook and follow along with us on Twitter @BehindThrills for the latest updates!
For our latest theme park videos please be sure to subscribe to us on YouTube!
For more information about Walt Disney World, including tickets, visit the official website by clicking here!