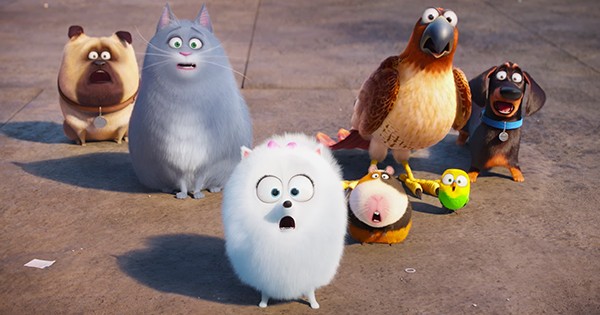 Summer is the time of sequels, reboots and remakes…this summer more than usual. The number one film so far this summer has been a Pixar sequel to one of the most successful films of all time. Secret Life of Pets, an original, non-sequel, non Disney, film about pets in New York never really stood a chance. Especially when the critics started calling it a "heartless Toy Story retread". What do critics know?
Apparently not a lot, as Secret Life of Pets scampered away with the top spot at the box office with over $103 million for it's opening weekend. Add in the $42 million of the overseas take, with a $75 million dollar budget and you have a solid success. The film also has a Cinemascore Rating of A-, which is pretty solid. Cinemascore measures what the audiences actually think of the film, and usually if it has a B or higher, the film will get good word of mouth and continue to do well. It's getting that, which is a good thing.
A few weeks ago Comcast announced that despite not knowing the box office return, they were moving ahead with a Secret Life of Pets ride at their Universal Parks. Universal Studios Hollywood announced that they were moving forward with the second phase of it's expansion, which has already begun with backstage demolition of some of the soundstages. It looks pretty obvious what we can expect to see as the next major project at Universal Studios Hollywood.
If you haven't seen the film, you should, it's a great family adventure with cute and memorable characters. Kevin Hart is in it, which has been a turn off for me lately, but here his hopped up insanity pays off as Snowball the cute little bunny with an ax to grind against humans. He's one of the many new characters we meet in the funny, and heart felt film that is really a love letter to our bond with our pets.
The film centers around Max, a mix breed dog that lives in New York with his owner Katy. He lives in an apartment complex that has tons of pets who socialize and mingle when their owners leave. It's really a perfect setting for a film that let's pets run wild. Things are turned upside down when Katy brings home a new dog, Duke. Duke turns Max's world upside down and things go haywire from there. The two are then thrust into New York City where they come face to face with tons of pets, forgotten pets, Snowball, and The Viper. The movie has several moments where you say "that would make an amazing ride".
Universal seemed to have thought so too, as the ride has been rumored for over a year now. What kind of ride will it be? Apparently a classic dark ride with tons of animatronics. Honestly, we hope for a boat ride with a few twists and turns. Or a mini-coaster along the streets of New York. Universal probably has bigger and better plans than we can think of.
Universal Studios Orlando has already started pushing out merchandise and unique photo opportunities in the parks, with a photo booth and a special segment at the end of their Cinematic Spectacular Nighttime Show. It seems that Universal Hollywood, however, will be the first park to get it with a projected opening of late 2017, early 2018. It also seems inevitable that a sequel is on the way, as Universal is investing heavily into Illumination Entertainment's projects with Sing later this year, and Despicable Me 3 in the next year or so.
What would you hope to see in a Secret Life of Pets Dark Ride? Do you think there's a chance we could see the worlds of Minions and Pets collide in a future film?
Stay tuned for more from Universal, and be sure to get social with us on Facebook and follow along with us on Twitter @BehindThrills for the latest updates!
For our latest theme park videos please be sure to subscribe to us on YouTube!
For more information about Universal Studios Hollywood, including tickets, visit the official website by clicking here!