Busch Gardens Tampa continues to be inundated with tons of projects and happenings as summer bares down, and goes full fury. Justin Holas is back with an update of everything happening at BGT, including new shops, rides down for maintenance and even Howl O Scream!
First up is the Donut Drop. We're guessing this new stand JUST opened, with the amount of execs we saw walking around it. The shop is located in a previously unused portion of Dragon Fire Grill, on the outside stands of Pantopia. The new shop serves up mini donuts with a variety of drizzles. We've tried these at IAAPA some years ago, and the machine is pretty cool to watch. It dips batter in the fryer and pushes the little donuts along. The whole process takes about two minutes and it's topped with cinnamon sugar, served with whipped cream and drizzled with either Chocolate, Raspberry or Caramel.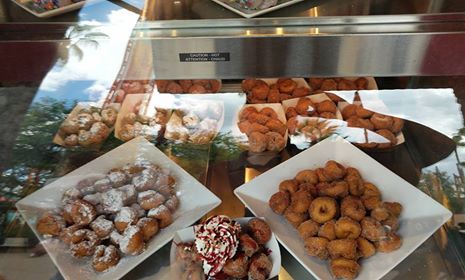 There's also coffee (naturally), tea and soda. You can also get classic Cinnamon or powdered sugar…but the real star is DONUT FURY.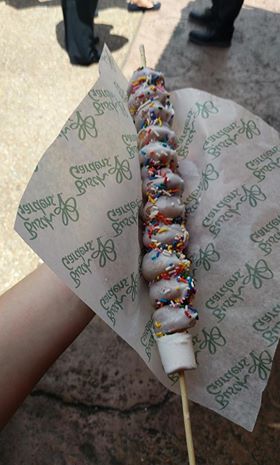 12 donuts on a stick, with amazingly sweet frosting dumped on top, and sprinkles. It's the perfect companion to Pretzel Fury and Falcon's Fury.
Video-Check out the new Donut Drop at Busch Gardens Tampa
We were told that the new shop is just testing for now, and if it's a success then it will stay permanently. Judging by the line in the afternoon, it looks as if it might be there for good.
Meanwhile, Falcon's Fury has been down for quite some time. The listing on the website has it down for an undetermined amount of time, and the park is not quite sure when it could be back up. Crews seem to be working non stop on trying to get it back up and running.
Falcon's Fury's ride carriage was seen going up the tower without the ride vehicles. Couple this with the fact that the ride has not been in operation since before the 4th of July, and it looks like Falcon's Fury could be having some major issues.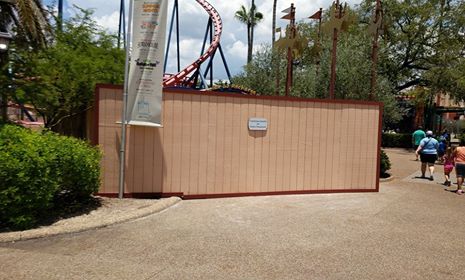 Walls have gone up near Scorpion as well. There's no telling what's going to happen here, but little stands have been popping up all over the park. It could be some simple work being done to the electrical system, or it could be another new drink or snack stand.
The last few weeks have shown some huge progress on the former Tidal Wave site. The last few pieces of equipment have been packed up, and demolition is officially over. Right now, the area is nothing but a pile of dirt, but soon that will make way for "Project Teel", the new Skyrocket Coaster that is likely coming to Busch Gardens in 2019.
Across the path near Stanleyville Falls new construction is poking up from behind the walls. While we speculated that it could be related to the new project, it's not. Some others have speculated that it's an extension to the queue for the flume ride…it's not. Employees tell us that it's just a new permanent Dippin Dots stand. That's it. It could end up being something else, but I wouldn't count on it at this point.
FINALLY comes Howl O Scream! The event will kick off on September 21st, and will spook guests until 1 am on event nights, every night of the event. The official Howl O Scream page has confirmed that we were wrong.  The fan favorite, Death Water Bayou is returning once again to the event.
Video-Go inside Death Water Bayou
So far, that's all we know. Death Water Bayou is returning, Zombie Containment Unit is not.

Stay tuned for more from Busch Gardens Tampa, and be sure to get social with us on Facebook and follow along with us on Twitter @BehindThrills for the latest updates!
For our latest theme park videos please be sure to subscribe to us on YouTube!
For more information about Busch Gardens Tampa, including tickets, visit the official website by clicking here!