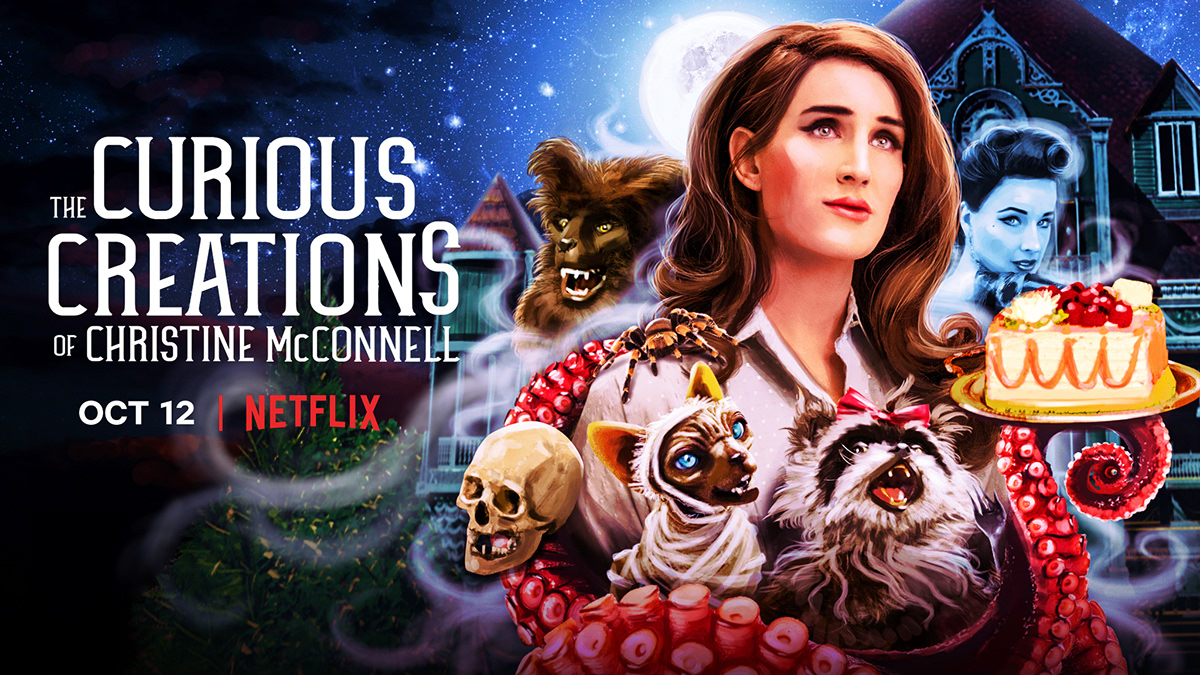 One of the biggest problems I have with Netflix is that it's just too damn much for me to take in. I spend probably about 30 minutes trying to figure out what I want to watch. I just don't have a lot of time to devote to a new show, so I end up watching something that's short, or familiar. That changed when I saw the trailer for the Netflix show, The Curious Creations of Christine McConnell.
It's a cooking show. Or is it? No, it's a horror sketch comedy…no that's not right. It's a show about a fairly bizarre version of Martha Stewart who is wickedly talented at making her own crafts, only they're spooky. And she has muppet characters living in the house. And they're spooky…and kind of dirty, and pretty morbid. It's a show that after ten minutes, I found myself sitting there with my mouth crooked open in a weird smile giggling at the silly jokes, and wanting to make the stuff I've seen Christine make on screen.
So WHAT IS IT?
Well, it's pretty much like I said. It's a show about a lady who lives in a weird house, with weird creatures as friends. She bakes, she makes craft projects, and they're all kind of horror based, but in a weird Martha Stewart homely way. The very first episode she makes very realistic looking bones, out of pretzels, peanut butter and chocolate, all while waiting for her new guest/werewolf to arrive, Edgar. The next episode she's making homemade candles for her neighbor, while her neighbor is having his nipples tortured (okay, there's talk of nipple torture) with a ball gag in in the basement by the dead raccoon that Christine brought back to life, Edgar, and a resurrected Egyptian Cat God.
It's very weird, and ya know what? It's absolutely delightful!
So, when I was a kid I loved Jim Henson's Muppet creations. Of course, I loved the Muppet Show and Fraggle Rock, but shows like the Storyteller kept me on my seat. And yes, even shows like Amazing Stories kind of helped as well. As I've grown up, there isn't any of that waiting for me any longer, and my tastes have grown to being fascinated by cooking shows and home crafts. I guess it's an age thing, or maybe it's just a fascination of people's talent. Whatever the case may be, The Curious Creations of Christine McConnell were made for those of us who were fed a healthy dose of 80's muppets, horror and fun…who grew up to be interested in Food Network. It's the perfect blend of all three.
The show is just really a delight, and of course my favorite character is Edgar. He's a big howling beast that is trying to ween himself off the taste of flesh…so chocolate and peanut butter is really helping.
All episodes are now streaming, and of course it makes for the perfect Halloween time watching. Yes, kids CAN watch it…but it is a little creepy, not scary but just creepy enough that they may get a little freaked out, and there's tons of adult humor. The neighbor is tied up in the basement with a ball gag, and when Christine finally sets him free, he announces that he's keeping the ball gag…for a ….friend, yeah not him. A friend. So parents be weary, it's not a kids show.
It's the show that kids like me wanted to be when we grew up.
Stay tuned for more from gory goodness, and be sure to get social with us on Facebook and follow along with us on Twitter @BehindThrills for the latest updates!
For our latest theme park videos please be sure to subscribe to us on YouTube!