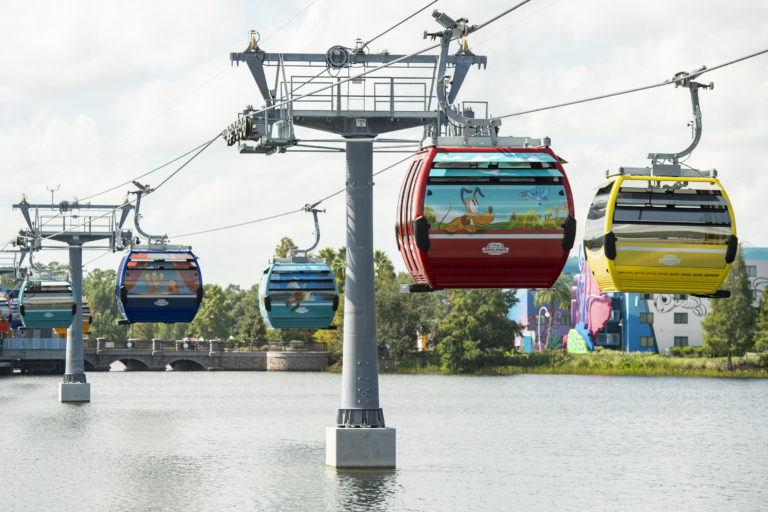 After less than a week of opening, a reported crash on the new Disney Skyliners have been reported on Saturday night, leaving riders stranded in the air. Thankfully, no injuries have been reported, and the issues are more inconvenient than anything else.
A spokesperson for Disney telling @wsvn "No accident on the skyliner. Unexpected downtime for the skyliner." This video shows the response to the incident https://t.co/YhtmIhTz2D

— Robbin Simmons (@RobbinSimmons7) October 6, 2019
Disney has gone on record of saying that the Skyliners have experienced "unexpected downtime", and the Orlando Sentinel reports that a power outage was the cause. However, twitter posts are painting a different picture.
BREAKING: There has been a crash at the Riviera Resort Disney Skyliner station. Guests have been stuck on the system for over an hour and 10 minutes with no help. If anyone who is stuck sees this Tweet, there is an emergency kit under the bench. I think there is water in the kit. pic.twitter.com/oWgr5mTmFo

— Drew the Disney Dude YouTube (@DrewDisneyDude) October 6, 2019
Another photo of the Disney Skyliner crash at the Riviera Resort station.

Photo Credit: @themeparkalex pic.twitter.com/J5yrwSBsII

— Drew the Disney Dude YouTube (@DrewDisneyDude) October 6, 2019
Reedy Creek Fire Department continues to work swiftly, but safely to evacuate guests from the #DisneySkyliner cabins after a crash

Latest Photos: https://t.co/62stf0mfNR pic.twitter.com/kqjVG9aZ9p

— BlogMickey.com (@Blog_Mickey) October 6, 2019
Riders were stuck on the Skyliners starting around 8 p.m. on Saturday night, as crews began the job of evacuating each and every car, one at a time. While fire crews were using cherry pickers to evacuate riders over land, there are parts of the ride system that are over water. Those riders look like they will have to be repelled from the ride vehicles. 
Making them zip line to a boat. pic.twitter.com/JYTAZiqWs6

— Ashton Foster (@AshtonFoster_88) October 6, 2019
This certainly does not bode well for the brand new transportation system. If a power outage is the reason, Disney needs to figure something out with it quickly, as power outages and lightning strikes are pretty much a way of life in Central Florida, where quick moving storms cause both all the time.
What's more is that these gondolas do not have AC in them, so riders are left to the elements. 
Up to ten people can be in a single gondola at a time. 
Stay tuned for more from Disney, and be sure to get social with us on Facebook and follow along with us on Twitter @BehindThrills for the latest updates!
For our latest theme park videos please be sure to subscribe to us on YouTube!
For more information about Walt Disney World, including tickets, visit the official website by clicking here!