If you're a fan of Disney, you'll know that at Disney's Hollywood Studios-The Hat is coming down. The iconic Sorcerer Mickey Hat that has been a part of the Hollywood Studios Landscape since 2001 is finally leaving, which is leaving a lot of fans happy. The news also comes during a time when much of Hollywood Studios is on the chopping block. While this might be coincidence, the departure of the hat is much more symbolic. The departure of the hat may also be the end of the Disney movie themed theme park as we know it. In fact, it might be the start of an all new "Adventure" altogether.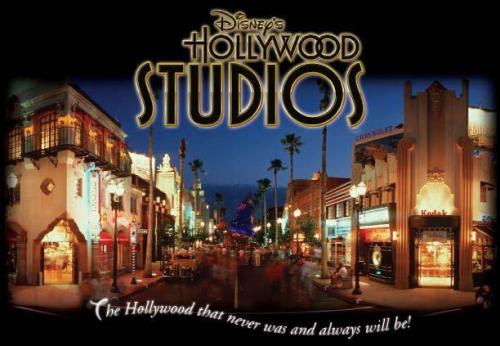 Jim Hill Media speculates on an episode of Unofficial Guide's Disney Dish Podcast, as well as our friends (and manic list makers) Theme Park Tourist, that the closing of the rides could be the beginning a massive redo of the park.
From the get go, the goal of Disney's Hollywood Studios (back then MGM) was to be a real, working movie studio. Production was to take place in the theme park, and it was to have movies and shows based off of several other films. In all, it was supposed to celebrate the spirit of the movies. Fast forward now, and not only do they not film anything (or hardly anything) at the Studios. They still do celebrate the spirit of the movies, but what you really have is a mis-mash of themes. On one side of the park you have a great replica of Southern California, and the grandeur of old Hollywood with Tower of Terror. Then you have a glimpse into the LA music scene with Rockin Roller Coaster. Over on the other side you have Star Wars, then some shows…and Toy Story. Then in the back you have the film theme again with the Stunt Show. Then, front in center, you have the hat and the Great Movie Ride. While the park is a lot of fun, it really doesn't make a lot of sense to keep calling it a studio. It's more like a great mix of California, more specifically Hollywood. This isn't necessarily a bad thing, because Disney has shown that they really are just going to do what they want. After all, Frozen is going into Norway.
So how do we recapture the theme and spirit of a theme park? We start out by taking out everything that is kind of too far gone to work into one central theme. Pirates? Nope…gone. American Idol singing? Nope…gone. Backlot tour? Gone…because we're no longer going to be a movie studio.
And that's the general idea. Disney's Hollywood Studios, will simply cease to exist. The rumors are swirling that the idea of a Studio needs to be gotten away from. So, to fix that, Disney is allegedly going to hit the restart button. They'll keep what will work with the new theme, and scrap everything else. That also means that after Christmas, Indiana Jones will be gone.
So, Hollywood Studios is already a half day park, and they're getting rid of all this stuff. What's the deal!
The park is going to go through a massively huge expansion. They will fill in space with new attractions, and according to Jim Hill, the first on that list will be Pixar Place. They will slap in a bunch of smaller flat rides, that are heavily themed, and expand Toy Story Mania. Additionally, the big rumor is that the huge E ticket attraction will be a replica of Cars Land, with Radiator Springs Racers as the centerpiece. Yes, it's the same exact thing as Test Track…but instead of being outdoors, and exposed to the elements, the ride will take place completely indoors and be smaller in scale. The flatrides and smaller kids rides will be very similar to what we already have seen in other parks like Disneyland Paris. Very easy rides to install, and lots of fun stuff to look at.
Frozen is already in place to take over permanently in the Premiere Theater with the Sing Along. It's the perfect place for it, and would be anchored perfectly with a Frozen Ride. Frozen Summer has proven that park goers want unique special events based on Disney films. Will the Frozen Sing Along still pack in guests next summer? Maybe. We'll just have to see.
The big one that everyone wants, and people will flock in massive numbers for comes from a long time ago…in a galaxy far, far away. Star Wars Land has been on the radar since Disney bought Lucasfilm. This is one that better be done right. Mickey with a lightsaber might be okay for Disney fans, but for Star Wars fans that needs to be left alone. Star Wars fans want what Harry Potter fans have. A completely immersive experience in the Star Wars Universe. The rides will be important, and we could see something like a Speeder-bike coaster. Maybe a even a visit to Hoth, via a huge indoor soundstage, where we pilot snow speeders through a blizzard. The rides are one thing, but the area itself better be ripped right from the film. We're talking Jawas making deals, droids walking everywhere, and a Cantina where we can get a blue milk-like drink.
Then of course, there's the name. Since Disney is going to be moving away from the "Studios" and since they no longer film in the park, what will the rumored name be?
Disney's Hollywood Adventure. Not bad. It kind of evokes the spirit of California Adventure. The Hollywood will be kept in check by the cool California sections of the park, mixed with the Hollywood films and shows that the rest of the lands are based on.
While we have yet to see any major work on Avatar Land at Disney's Animal Kingdom, the DHS makeover should be gaining steam very soon. How do you compete with a massive scale boy wizard? By revamping, renaming and reopening one of your smallest parks into something amazing.
Keep in mind that at this point, these are just rumors. Until the park announces anything officially, none of this stuff is really happening.
Stay tuned for more from Walt Disney World, and be sure to get social with us on Facebook, and follow along with us on Twitter @BehindThrills for the latest updates!
For more information about Disney's Hollywood Studios, including tickets, visit the official website by clicking here!