May 27th seems to be a magical number this year as many parks are opening brand new attractions, and Disneyland is also playing along with this magical number. Coming to Disneyland on May 27th will be Mickey's Soundsational Parade.
Mickey and friends will parade down Main Street USA, with live music and a total of nine floats. The parade will bring some of Disney's most loved songs to life right in the streets of Disneyland.
Back in July, we received a first look at concept for the parade, which offers quite an idea of what we're going to be expecting come May. Based on the concept art below, we can expect to see characters from Peter Pan, The Lion King, The Little Mermaid, The Princess and the Frog, several different Disney Princesses, and more.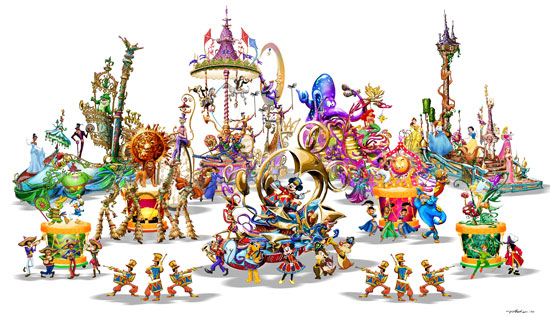 Now that May is getting closer and closer, we've been given a closer look at some of the concept for the parade, including Mickey's float (pictured at the very top of the article) and an outfit that will be featured in the parade. Oh, and yes: we'll see some elements from "Tangled". Here's a closeup look of the Princess and the Frog float.
It will take more than 90 performers to bring this parade to life. Here's a photo of some of the costumes that will be featured in Mickey's Soundsational Parade.