The newest attraction at SeaWorld Orlando won't open until Spring, but work is already remarkably close to being done on Turtle Trek, a completely new and first of it's kind experience. Last week we were part of the first group of people to tour the all new experience, which is still under construction. The main attraction will be a unique 360 degree 3D theater that will completely immerse guests in the life of a Sea Turtle. Last week, the final panel of the huge dome that will house the theater was put into place.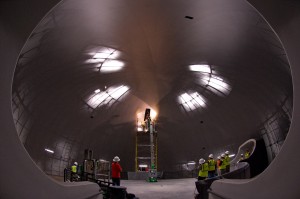 The entire experience is housed in what was once the Manatee Encounter area. The theater is actually a large basement, 14 feet below the area that guests walk. Once in the queue area, guests will experience Manatees, the film and then be surrounded by sea turtles.
httpvh://www.youtube.com/watch?v=Q6V9DazHbyE



The dome is the first of it's kind, with 36 projectors and a state of the art sound system that will literally have the sound floating through the room and make the entire experience feel as if it's surrounding guests.
The film for the attraction is also complete. It's so realistic that it will take crews in SeaWorld five weeks to download and assemble the film. It had to be done in several different parts of the country at different studios to get everything just right. Turtle Trek will not only make guests a part of the attraction, but also will teach guests what they can do to be everyday heroes and help Sea Turtles.
Special thanks to Joey Hancock and Daniel for the pics and video!
For more information about Turtle Trek, visit the official SeaWorld Orlando website!
For more theme park goodness, be sure to follow us on Twitter!