Say it with me…Ooga chocka, ooga ooga…yeah, it's kind of catchy. The Guardians of the Galaxy trailer has arrived, and it's given the world their first taste of a decidedly more sci-fi version of the Marvel Universe they've grown accustomed to. It's also given them a look at an unknown band of superheros (for now) that isn't your typical heroes. With Disney pushing hard to get Marvel characters into theme parks, it's only a matter of time before they end up in at least a meet and greet capacity. But the real question remains, is Disney (and parents) really ready for this rag tag group of A-holes?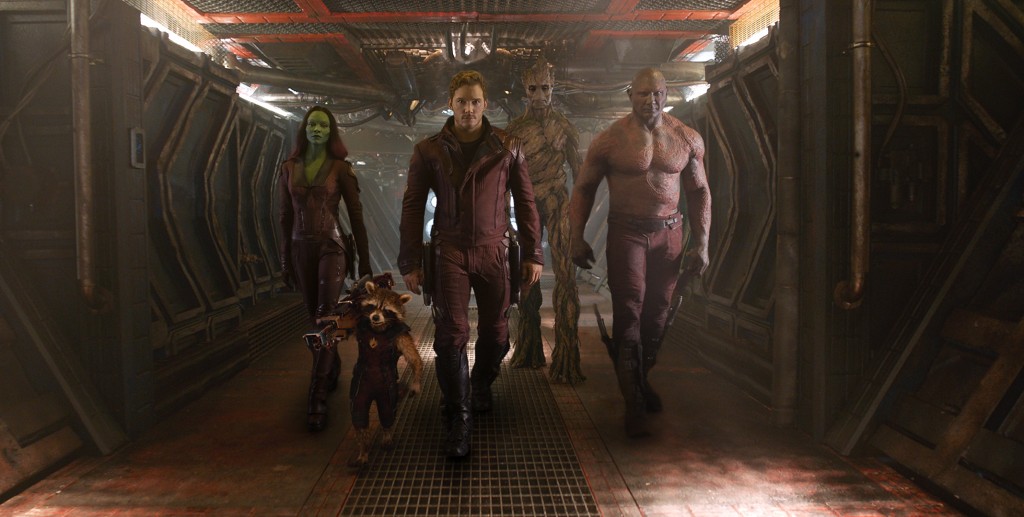 Guardians of the Galaxy is an upcoming Marvel film based around a 2008 comic reboot. The Guardians originally started in 1969, but as most comics do, underwent rewrites and revisions of the team and members. The film will feature Star Lord-a jerk who is half alien and half human, Drax the Destroyer who is on a kill crazy quest for revenge after the murder of his family, Gamora a deadly assassin, Rocket Raccoon-a foul mouthed raccoon who is an expert with guns and Groot…who is a massive moving tree.
It's going to be interesting to see what storyline that Marvel and Disney takes with this comic, and how close to the comic it will be. Judging by trailer, and the fact that Star Lord flicks off the police…after Rocket spits, it's looking like the very unorthodox team of heroes will be well represented on screen. Sure they'll miss a few things, but the attitude of the comic looks to be there…and it's not a very little kid friendly attitude. The kids will go nuts for Rocket and Groot, who should effectively steal the show despite Groot's limited vocabulary (he really only says "I am Groot"). So where will that leave a theme park attraction?
Watch the trailer for the film and see if you can wrap your brain around it.
Video-Get to know the Guardians of the Galaxy
http://www.youtube.com/watch?v=pTZ2Tp9yXyM&feature=youtu.be
How cool is that? We know kids will go nuts for the very cool characters that scream across the cosmos, but will parents? Will an attraction be able to capture that same wreckless attitude, and be able to not make parents grit their teeth?
Here's a few ideas that have been floating around the internet:
-A special effects filled edition of Space Mountain, featuring the characters in a queue video
-A meet and greet with an interactive Rocket Racoon, live action Star Lord and animatronic Groot all working together to make a cool interactive show/meet n greet.
-Walk around Groot character. A combination of costume and animatronics, much like Optimus Prime at Universal and Talking Mickey. The face would have to be animated, but everything else would be stilts and costume
-A walk through of the Guardians ship, featuring videos of the characters throughout…With a Groot meet n greet at the end
-An galactic arcade featuring games based on the film, featuring the characters. ..and a Groot meet n greet…did I mention Groot yet?
The film doesn't hit theaters until August, but is already starting to gain steam due to it's break from the traditional Marvel mold that we've seen so far. Sure, we've seen guys in flying suits, Norse Gods and a cryogenically revived super soldier…but somehow they've been rooted in some kind of reality. Are Disney fans and general audiences ready for a group of foul mouthed aliens who like to fight, get revenge and in general, cause trouble?
Let's hope so.
Stay tuned for more movie and theme park goodness. Be sure to follow along on Twitter @BehindThrills for the latest updates.