SeaWorld Orlando's long running show, Clyde and Seamore Take Pirate Island,  closed earlier this year to make way for a mysterious new show. Today SeaWorld has announced that Clyde and Seamore will be trading in the pirate swords for notebooks as they go back to school. They will be the stars of an all new show, coming in Spring of 2015 when the hilarious comedic duo , Clyde and Seamore enroll in Sea Lion High!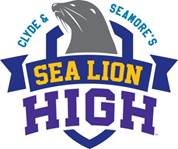 The all new show will see the comedy team take on high school as the top math whiz, Clyde is up for a scholarship.  At the same time, so is the sports hero, Seamore. On the last day of school, the self appointed varsity star, Trip decides that he has other plans and puts the two sea lions in danger of missing graduation. The two must finish all their classes in one day in order to graduate.
The show will mix animals, and humans in a fun, goofy aquatic show that has the cast slipping and sliding all over the place.
"We love putting together a new show," said Todd Coffman, SeaWorld Orlando's lead trainer for "Sea Lion High." "It's a chance for us to try out the new behaviors we've been working on with our sea lions, otters and walrus. And the trainers love showcasing these awesome animals and their incredible abilities."

"There are several sea lions in the cast of 'Sea Lion High' and each of them bring something special to their role, because their personalities are so different. There's Seamore, who's the Einstein of sea lions and who looks at every challenge as something to be conquered.  Clyde, is big, strong and loyal but always a little silly. He doesn't take things too seriously. Imagine working with this cast of characters, from Opie Otter who weighs only 10 lbs., to Sir Winston Walrus who tips the scales at 2,300 lbs., and sea lions that weigh about 550 lbs. That's a lot of star power on one stage," Coffman said. "Every day and every show will be a different experience."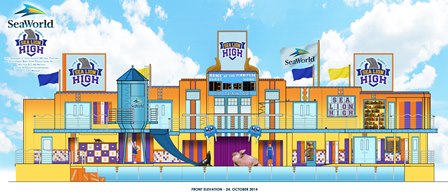 The show will also mix education with entertainment, as the show will bring guests up close and personal with several different animals, and carry out the high schools' motto of "Education through Exploration and … Imagination."
"Our guests will have a great time at the new show, but they'll also learn about the relationships our trainers have with each sea lion, otter and walrus. And seeing these animals up-close provides each guest with an opportunity to connect and be inspired by them," Coffman said.
The show is being co-written and directed by BT McNicholl, a veteran SeaWorld director.  McNicholl is a Broadway vet, currently working on "Cabaret" and recently "Billy Elliott" and "Sunday In The Park With George."
The script is being penned by Randy Rogel who is also doing original songs for the show. Rogel has previously worked on TV's "Animaniacs" and "Batman."
Sea Lion High debuts in Spring of 2015 at SeaWorld Orlando. As of right now, there is no word on whether or not mimes will be part of the show. Mimes had been part of Pirate Island, and we're a beloved part of the show. They would usher people into the stadium,  and make fun of them as they walked by. It's hard to imagine a Clyde and Seamore without the mimes.
Update
We reached out to SeaWorld about the inclusion of mimes and they said that they simply don't know yet. They are still working on a few aspects of the show, one being the pre-show. The mimes were utilized in the pre-show for the last Clyde and Seamore Adventure, but that could change easily. Orlando is the only Sea Lion show that uses mimes.
Stay tuned for even more from SeaWorld, and get social with us on Facebook and follow along with us on Twitter @BehindThrills for the latest updates!
For more information about SeaWorld Orlando,  including tickets,  visit the official website by clicking here!