Fox World is the latest theme park chain that is popping up all over the globe. There have been plans for a Malaysian park, which will open in 2017, but the next one will be the biggest yet. It will feature several new attractions based on huge Fox movie, and television properties, and it's set to open in just three short years. Plus, there will be the world's first Fox themed hotel, and some familiar yellow friends that already call another park home.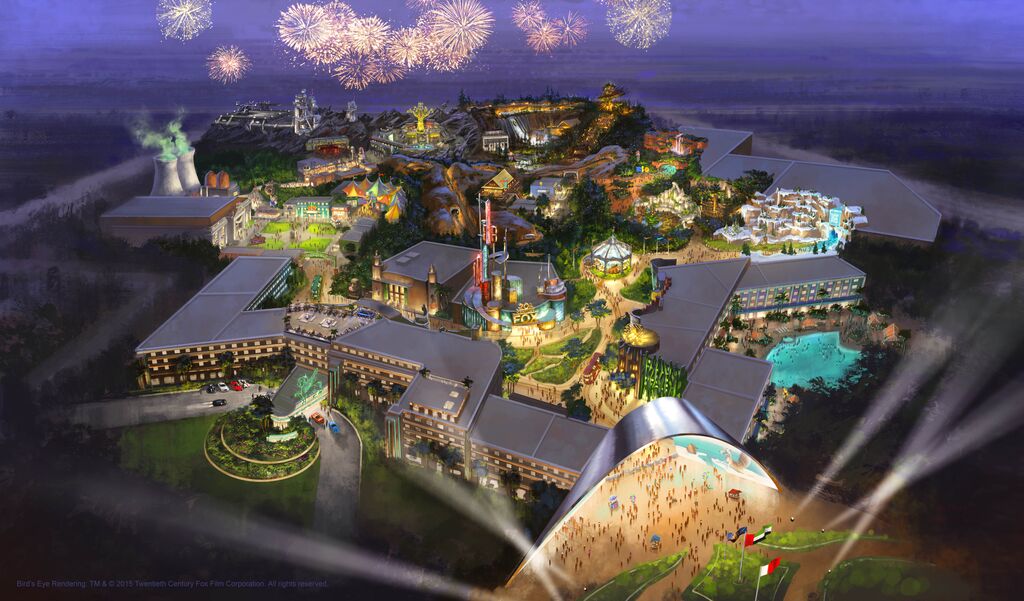 Al Ahli Holding Group, and 20th Century Fox are bringing the huge and rich history of Fox films to life with some major players. The new resort will be the second Fox based theme park, with the first being in Malaysia in 2017, and will be the first Fox resort completely built from the ground up. It will also be the first Fox Resort to feature a themed hotel, specifically to the properties and themes of the licensed properties. The new hotel, according to the artwork above, will be built right into the park, which should give unparalleled access to the theme park for hotel guests.
"20th Century Fox World, Dubai is the second Fox theme park destination and marks an important step forward in our global theme park strategy. Fox World will be a world-class destination that will help fuel Dubai's emergence as a global tourism destination," said Jeffrey Godsick, President of Twentieth Century Fox Consumer Products. "This park builds on the foundation being laid by 20th Century Fox World, Malaysia, currently under construction."

Mohammed Khammas, CEO of Al Ahli Holding Group said, "AAHG's history in the genre of entertainment is replete with successful partnerships with top motion picture studios. We pride ourselves in understanding the pulse of the audience and catering to it with novel and breakthrough projects."

"Fox's rich history of great entertainment-based intellectual properties from movies, television shows and animation concepts will help us spearhead this project and add value to our latest offering in the global entertainment space. As part of our international deal with Fox, we look forward to building these attractions and resorts globally starting with Dubai as the first location and additional Fox branded resorts that we hope to open across other territories in the future," added Khammas about AAHG's deal with Fox.

"We are thrilled to partner with Al Ahli Holding Group on this exciting project," said Greg Lombardo, Senior Vice President of Global Live and Location Based Entertainment for Twentieth Century Fox Consumer Products. "20th Century Fox World, Dubai will provide an ongoing platform for immersive brand engagement with our consumers from around the world, including key international markets of Europe, Russia and China."

"The synergy created by AAHG's partnership with Fox will enable 20th Century Fox World, Dubai to offer the consumers in the Middle East and global tourists visiting Dubai to experience world-class facilities with unique attractions and retail outlets that will take themed entertainment to a different level," said Manoj Aheeray, Director of Investment and Strategy for AAHG.
Let's look closer at the artwork, and concept art. The first thing that screams off the page is the inclusion of the Springfield Power Plant. That clearly means that we will see The Simpsons involved in the park. The Simpsons already has a foothold at both Universal Studios Florida and Hollywood, in what is a completely immersive environment. This new version looks to have a huge show building, as well as an area for shopping and dining. There's also a massive circus tent with Krusty the Clown. It looks like we'll see a few different types of attractions here, as well as a mock up Springfield, much larger than the previous versions.
Just beyond that we see what looks like it could be a few research facilities where the Aliens and Predators are kept. One looks like a Weilland research facility from the Alien Franchise, the other looks kind of like a drop tower of some kind. Maybe a ship? Still it looks as if the park will have several great themed areas, and lands to go along with the attractions.
Another great attraction seems to be the huge Planet of the Apes attraction, which looks to be taken directly from Rise of the Planet of the Apes, the second film in the rebooted series. A water attraction themed around a huge forest and tree house village? Count us in!
The all new park will have a major presence at next week's IAAPA Show in Orlando, and we should be able to get some more details about the new attractions and scope of the project.
Stay tuned for more, and be sure to get social with us on Facebook and follow along with us on Twitter @BehindThrills for the latest updates!
For our latest theme park videos please be sure to subscribe to us on YouTube!