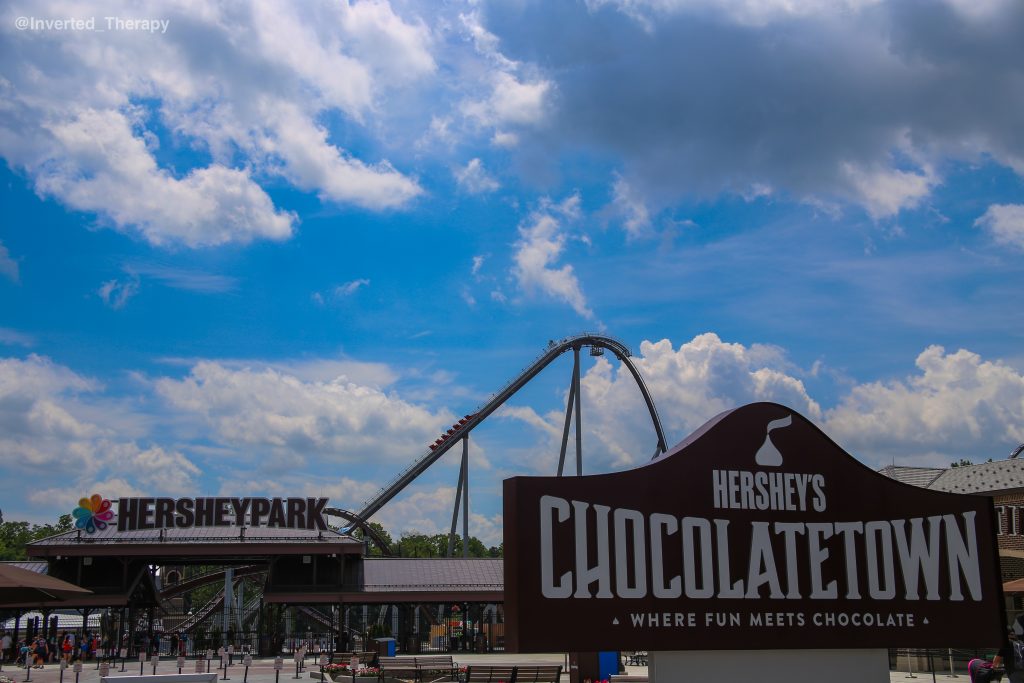 Hersheypark is a park that has been around for 114 years. It was founded in 1906 by Milton S. Hershey, the creator of Hershey Chocolate. Chocolate is the theme of the park, and honoring their history is a legacy tradition. This year they opened a whole new entrance that honors their creators legacy in many ways. They also opened a brand new ride that would etch a memory of this park into anyone's mind forever.
The park has a brand new entrance, with chocolate themed into the floor, and a hidden gem that points out historical and important locations in the park. I was fortunate enough to be queued in on a few of these secrets on my visit as Quinn Bryner, the director of PR met me at the gate and walked me through some of the key things laid out in the entrance of the park. On the floor you will find representations of Hershey chocolate bars, Hershey kisses, and other Hershey goodies. The circular medallions have little Hershey kisses that point in the direction of the items they represent: The stadium, the gardens, the hotel, and more.
As you pass through the new security measures – something many parks such as Six Flags St. Louis, and Cedar Fair parks like Worlds Of Fun have also adopted – you will pass through new metal detectors designed to speed up the process. Standing in the new Chocolatetown directly in front of you will be the parks new main attractions: a 210 foot tall B&M Hyper coaster called Candymonium – with a sweet kiss of an ending: You circle around a fountain designed to look like a Hershey Kiss. I was fortunate enough to get a preview of what this fountain will be as they were testing it within the last 20 minutes of my visit. Remember: This is still forming so, this thing will look even more amazing after they get the water patterns perfected.
As I moved through the park I noticed mask enforcement was a key feature: Before each ride was launched guests were reminded. I saw multiple people stopped and asked to put their mask over their nose. Another stand out feature was that on their hand sanitizer stations they made it easy for guests to reach out and let staff know of empty locations with a simple text message. Safety and health was a absolute priority clearly.
The coasters in the park have some notable stand outs. SkyRush stands at 200 feet tall and is one of the most intense Hyper roller coasters I have ever ridden. Intamin knocked that one out of the park, with the only complaint being restraints that get tighter and tighter as this coaster focuses heavily on positive G forces, that feeling of being pushed. A key difference between it and the new Candymonium at the front gate which focuses heavily on negative G forces – the feeling of floating.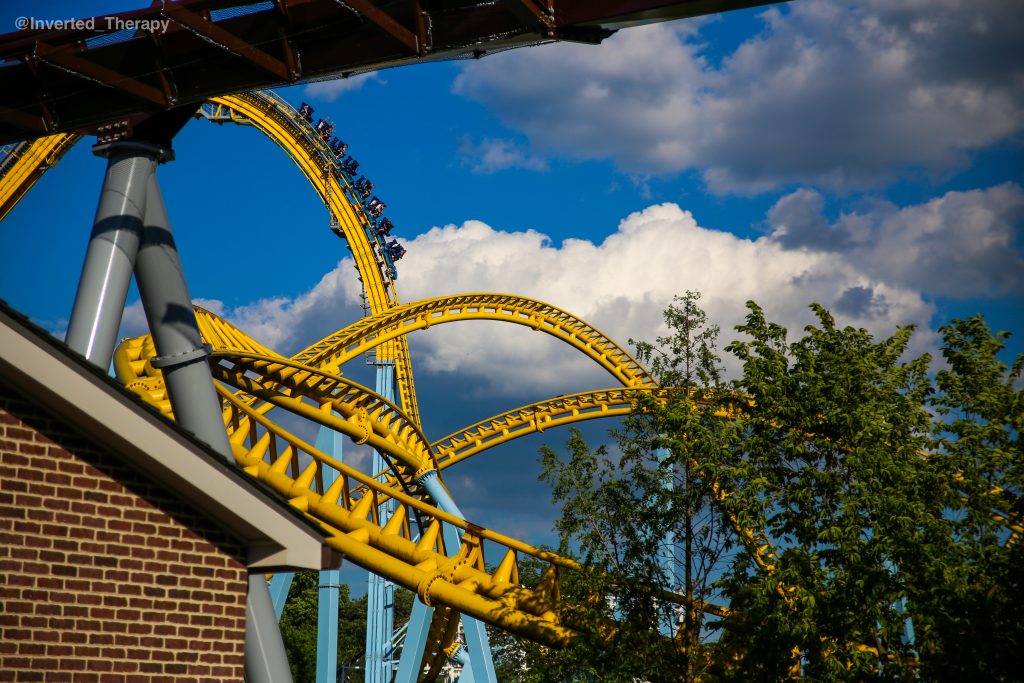 There are two other Intamin rides in the park. Unfortunately Storm Runner is closed for the season – an Intamin launch coaster. I was fortunate to ride Fahrenheit though. This is a unique Intamin coaster with a 90 degree straight up lift hill. It focuses heavily on inversions, and is the closest thing to having a full vertical loop on an Intamin coaster I have ever experienced. Standing very photographically in the park, this was one of my favorite rides. It packs a strong punch, with similar trains to Maverick at Cedar Point.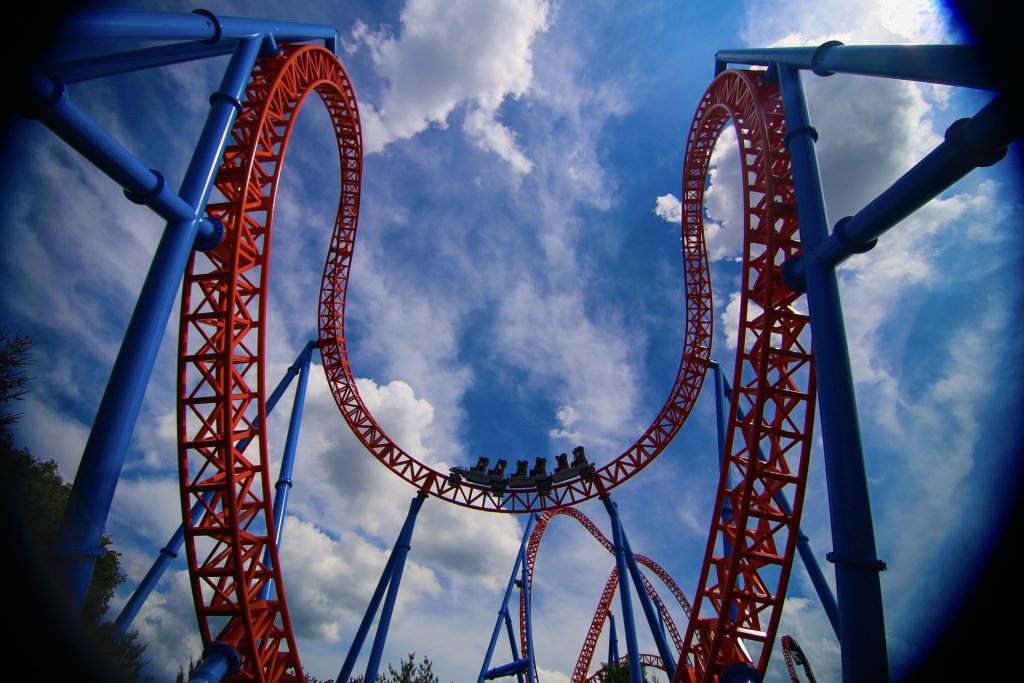 The park also features 3 – technically 4 wooden coasters. Lightning Racer is a racing dueling GCI that passes itself multiple times. It leaves and returns to the same station, so it is technically 2 coasters even though its the same layout. Wildcat is the first ever built GCI. I found Wildcat to be a little rough, and probably would make an amazing candidate for a conversion by the infamous RMC, or maybe the new GCI track that was unveiled at IAAPA last year? The third wooden coaster in the park is Comet – a coaster that has been standing since 1946. This classic wooden beast gives surprising amounts of airtime and still runs extremely smooth even for a ride of it's age.
Hersheypark is also covered with shade, plenty of trees litter the landscape as you walk through the hills of the park. There are food stands everywhere with wonderful choices from chain restaurants such as Chick-Fil-A, Subway, and Moes, or park designed options that include some of your favorite park foods. There is also plenty of chocolate to chose from, OH! And how could I forget their milkshakes?!? They theme the shakes to rides, or chocolate themes and create these amazing looking King Size Shake creations that are beautiful AND delicious!
Overall Hershey is a top 10 park. Probably even a top 5 park. It ranks up there as one of the most beautiful theme parks in the world. It reminds me a lot of Silver Dollar City with the mountain terrain and trees throughout. Parks with shade are a beautiful thing. Parks that feature an amazing ride collection to go along with that covering and landscaping? Perfect combination for success. Boasting 15 roller coasters and more flat rides than I could count, Hershey certainly delivers on both fronts. With an amazing new entrance, and clear commitment to developing into one of the best theme parks out there, I can't wait to see what they bring through the rest of their park expansion in the next few years.
Stay tuned for more theme park information, and be sure to get social with us on Facebook , Instagram, Twitter @BehindThrills for the latest updates! For our latest theme park videos please be sure to subscribe to us on YouTube!
Justin Landers is 29 year's old and owns Just Shoot Light Multimedia Productions, a freelance photo and video company involved in the theme park industry since 2013. You can find him on Instagram at @Inverted_Therapy and @Just_Shoot_Light and on YouTube or Facebook.