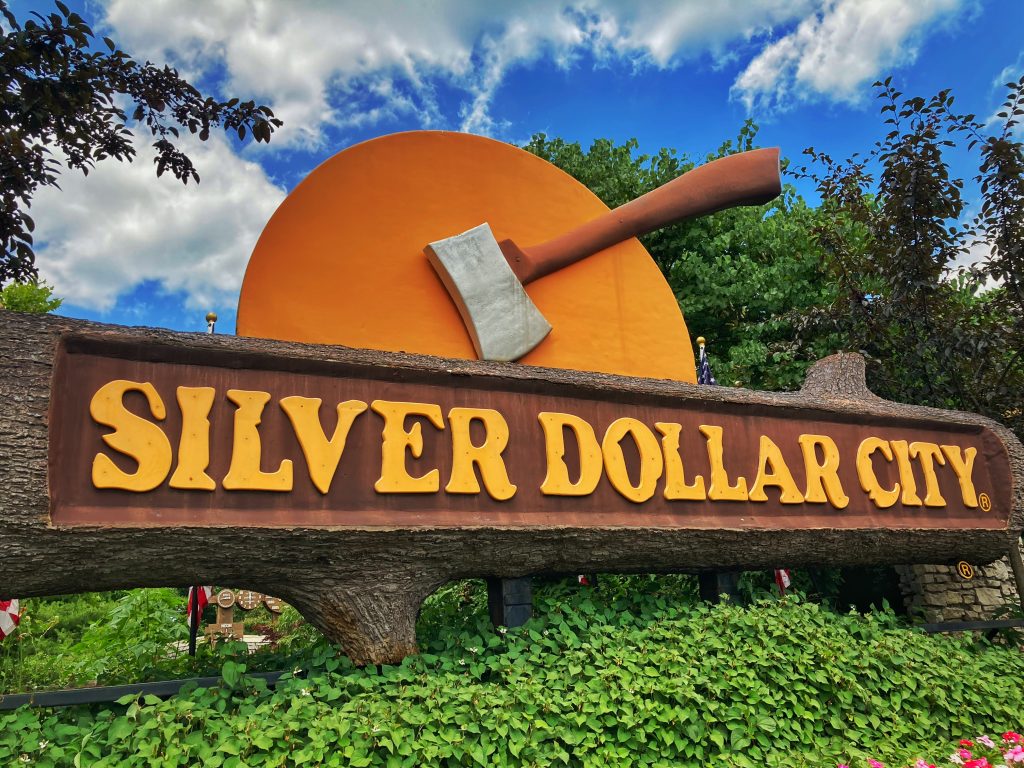 Silver Dollar City is one of the most beautiful theme parks in the world. It sits in a mountain town in Branson Missouri, and much like it's park across the country, Dollywood, it uses the terrain to it's advantage. It is considered the best theme park in the world by a lot of theme park enthusiasts, boasting a waterfall, and shaded paths throughout. So, is it worth a visit in these trying times of a pandemic? I visited on June 24th to find out.
The safety measures in place at Silver Dollar City are similar to what I found at Worlds of Fun the day before. Masks were required through the park, there was a temperature screening at the front, and new for 2020 there are metal detectors at the entrance of the park. Yes, the metal detectors are new for 2020! It's one of the first things I noticed on my visit in 2019 – there was a bag check but no metal detectors to be found. I find it interesting that in a time of a pandemic they added a security measure that slows down entrance. The one time I had a line, and therefore a decent amount of crowding was trying to get in. It seems like everyone showed up at opening, and at the entrance there was almost no social distancing. Silver Dollar City opens up to very wide paths as soon as you pass through the gift shop near the entrance.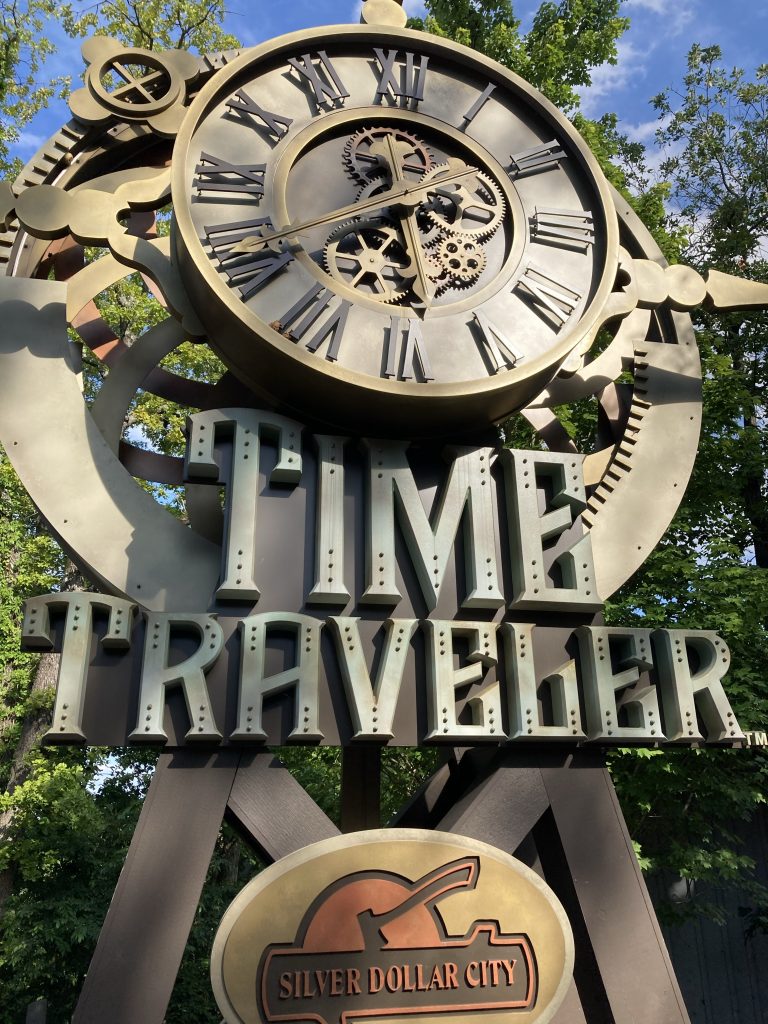 Once I was in the park I suddenly felt like I had plenty of space. I headed over to Time Traveler to get my first ride – about a 45 minute wait for this Mack spinning coaster, which is in my top 5 personally. Why was a park with a limited capacity still experiencing 45 minute lines though? Well; it turns out that they were running one train, an issue through many parks that we discussed here. Silver Dollar City was running one train on every one of their coasters.
When i got off Time Traveler I headed to Outlaw Run, where I waited about 10 minutes for my first ride. I immediately ran back around the queue to get a second ride, and managed to walk on. I lapped Outlaw Run a few times, as I figured the line would start to build as the crowd made its way to the back of the park.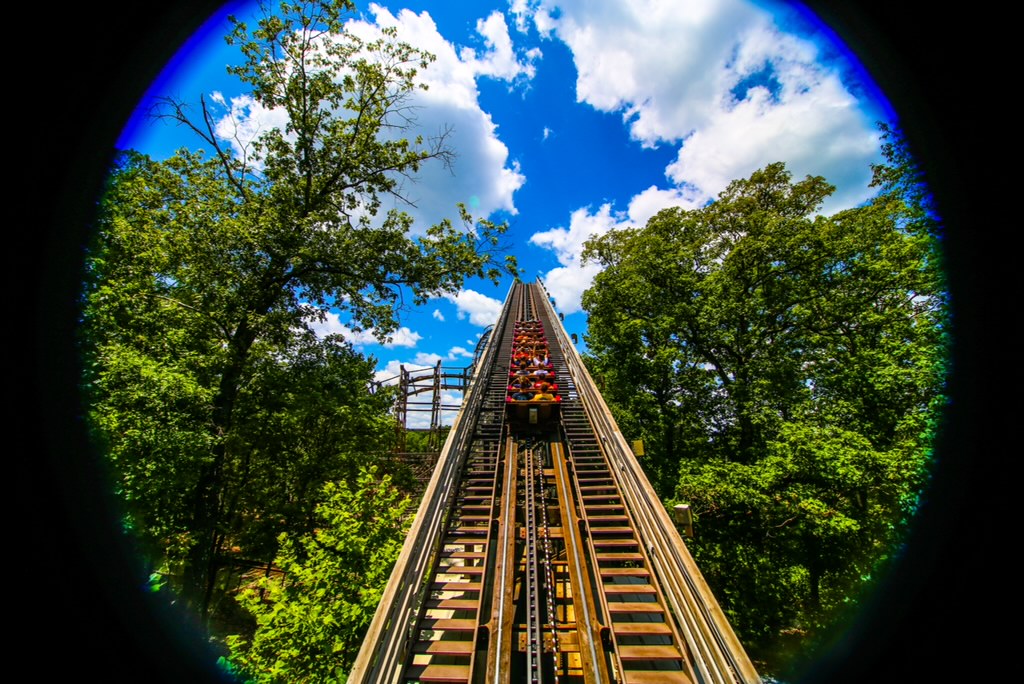 Powder Keg, the S&S Launch coaster, was the longest wait of the day: one train kept this monster of a ride at a 1 ½ – 2 hour wait all day – and limited me to a single ride on it because of that line. It's crazy to think that this company has now built a new insane 4D roller coaster. Could Silver Dollar City work with S&S again?
There is a new for 2020 Intamin raft ride coming "SOON" as Silver Dollar City likes to make people aware of on their social media. I could see the water running on the ride, and test cycles being sent. This version is going to be similar to the Infinity Falls ride found at SeaWorld Orlando. It will be called Mystic River Falls. Cinnamon Bread, something Silver Dollar City and Dollywood are famous for, which used to be found in the mill house, is now found in a new building directly across from this new ride.
Following my single ride on Powder Keg and checking out the new for 2020 addition raft ride I walked to the front of the park and rode Wildfire after a 15-20 minute wait. This ride would have also been a walk on if there were two trains, a point I keep bringing up because running one train at half capacity is actually only running half the capacity of a normal ride cycle. B&M's on average seat 32 people.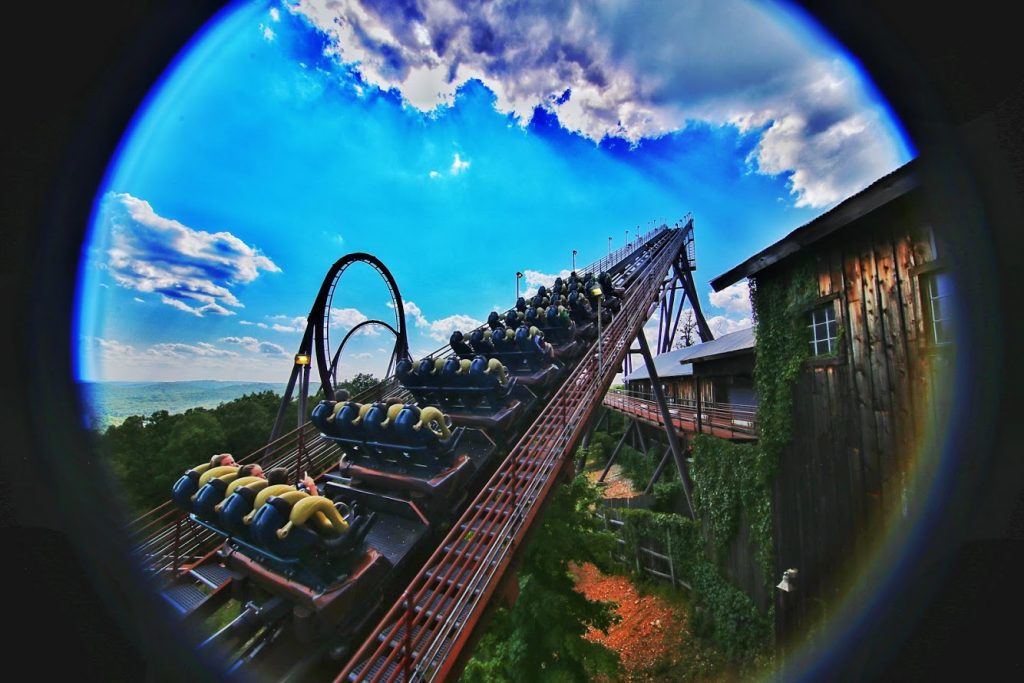 I spent some time walking through the park. I noticed that pretty much everyone was following the rules and wearing their masks, and on the rare occasion someone wasn't they would not get far before a team member asked them to put it on. The park felt like an average weekday there based on my previous visits, but I do wish they would work to eliminate their queue lines by running their rides at full capacity. They also were not doing timed entry slots which created a build up at the entrance, but beyond that, people were rather well spaced and keeping their distance. Overall it was another wonderful day at Silver Dollar City and I certainly will be back after Mystic River Falls reopens! Hopefully next year we can see another new roller coaster added in – hopefully they take another chance like they did with Time Traveler in building a first of it's kind. Do you think AXIS fits there?
Stay tuned for more theme park information, and be sure to get social with us on Facebook , Instagram, Twitter @BehindThrills for the latest updates! For our latest theme park videos please be sure to subscribe to us on YouTube!
Justin Landers is 29 year's old and owns Just Shoot Light Multimedia Productions, a freelance photo and video company involved in the theme park industry since 2013. You can find him on Instagram at @Inverted_Therapy and @Just_Shoot_Light and on YouTube or Facebook.