SeaWorld Orlando announced new details on their upcoming attraction for 2013, Antartica: Empire of the Penguin, at the Pow Wow in Los Angeles, one of the world's top travel shows.
New details about Antartica from the official Seaworld press release:
Antarctica – Empire of the Penguin will include a first-of-its-kind family adventure ride that utilizes new technology for an experience that can change from visit to visit. Designers also revealed that guests will be able to choose the level of thrill they experience on the ride. Each car seats eight guests.
Guests will be introduced to a new SeaWorld star – a young gentoo penguin. The young gentoo becomes the ride's guide and leads guests on an exciting journey through the dangers and wondrous beauty of the Antarctic.
Antarctica – Empire of the Penguin will get SeaWorld's guests closer than ever – and out among – its colony of penguins including gentoos, rockhoppers, adelies and kings. How close has yet to be detailed, but designers consider the guests' encounters with the penguins to be the first of their kind in any theme park or zoo in the world.
Immersing guests in a colony of penguins means Antarctica – Empire of the Penguin will be the coldest theme park attraction in the world. Designers have declined comment on the engineering it will take to place SeaWorld guests among a colony of penguins whose habitat must stay in the low 30 degrees for comfort.
The footprint for Antarctica – Empire of the Penguin is the biggest of any expansion at a SeaWorld or Busch Gardens park. Park execs consider Antarctica – Empire of the Penguin an all-new "realm," rather than a single attraction. Antarctica's scope includes the ride, penguin habitat, gift shop and restaurant.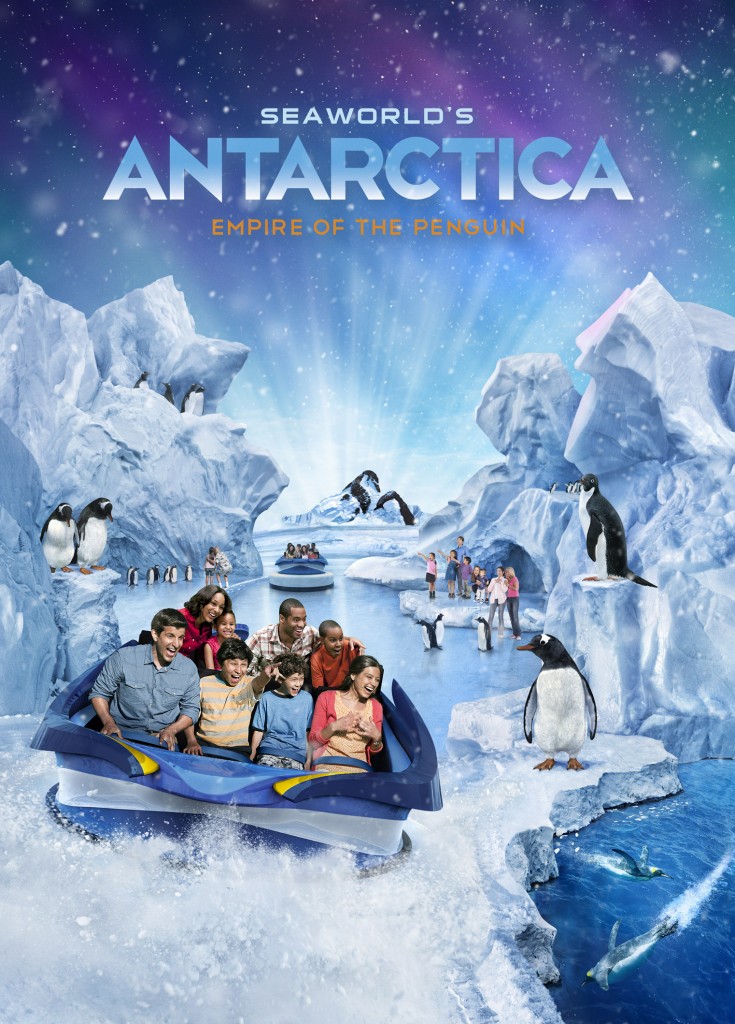 Above is brand new concept art released by SeaWorld that gives you an idea of what the ride vehicles will look like and how guests will be immersed into this experience. Antartica will take guests and immerse them into the world a penguin lives in. They will be surrounded by sights, sounds, and incredible encounters on their journey.
"Only SeaWorld and its parks can take you on these journeys or bring these experiences to you," said Terry Prather, SeaWorld Orlando's president. "We're excited about what the future holds for our parks and our fans."
For more information about Antartica, read the original press release by clicking here. For more information about SeaWorld, visit http://seaworldorlando.com.