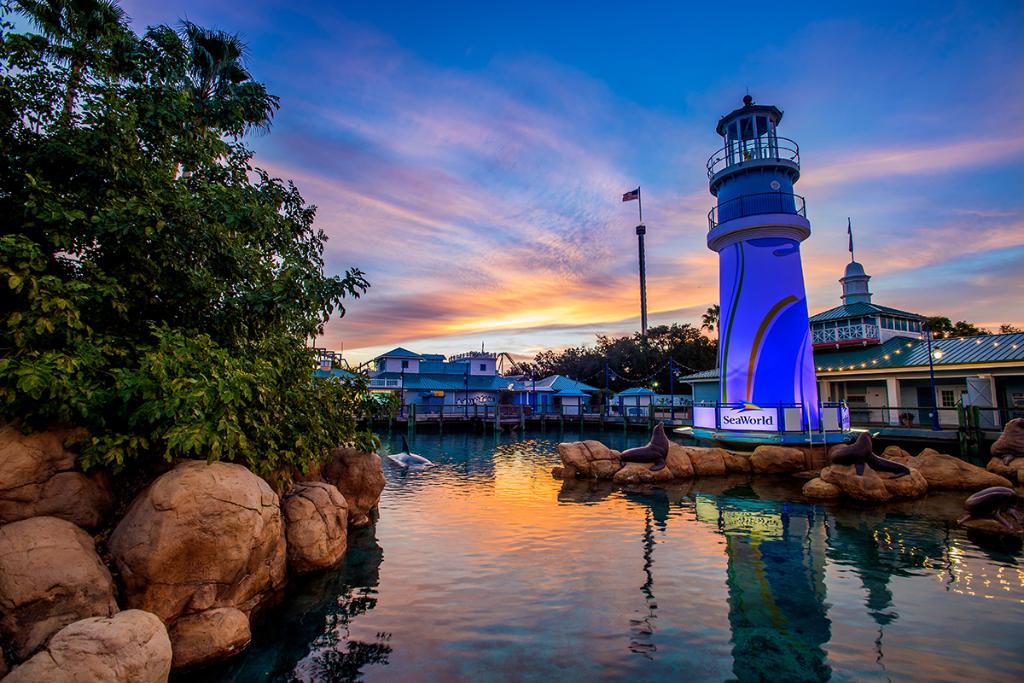 Update: SeaWorld was given final approval from the Governor of Florida to reopen on June 11th!
On May 27th, officials from SeaWorld Orlando laid out plans for the park's reopening, marking the second Orlando-area theme park to initiate the reopening process. SeaWorld's interim CEO, Marc Swanson, presented the reopening strategy at the Orange County Economic Recovery Task Force meeting and stated that SeaWorld hopes to reopen on June 10th for an Employee Appreciation Night and would open to the public on June 11.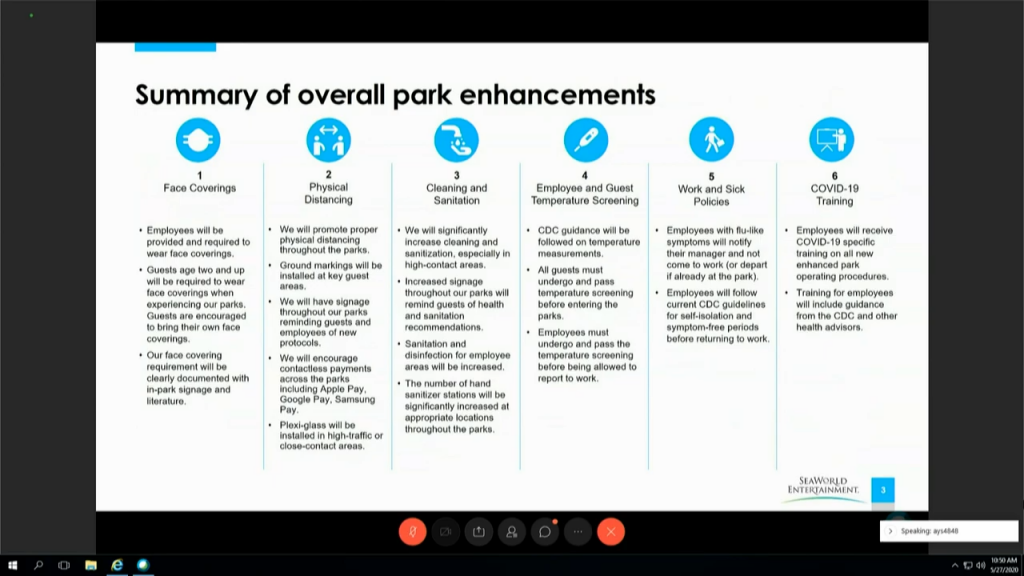 Earlier this month, SeaWorld emailed out an online survey to many of its passholders asking which procedures park guests would expect to be implemented when the parks eventually reopen, and it seems like many of the protective measures mentioned in the survey will be taking place. Before entering the park, both employees and guests will be required to wear face masks, and guests that arrive without a mask will be given one.
A temperature screening will also be required to enter the park. Tickets will be scanned by employees through a plexiglass barrier in order to limit contact between park guests and employees. Markers for social distancing will be placed throughout the park and common areas will be frequently sanitized. Paper maps will no longer be distributed – park maps will be only available electronically.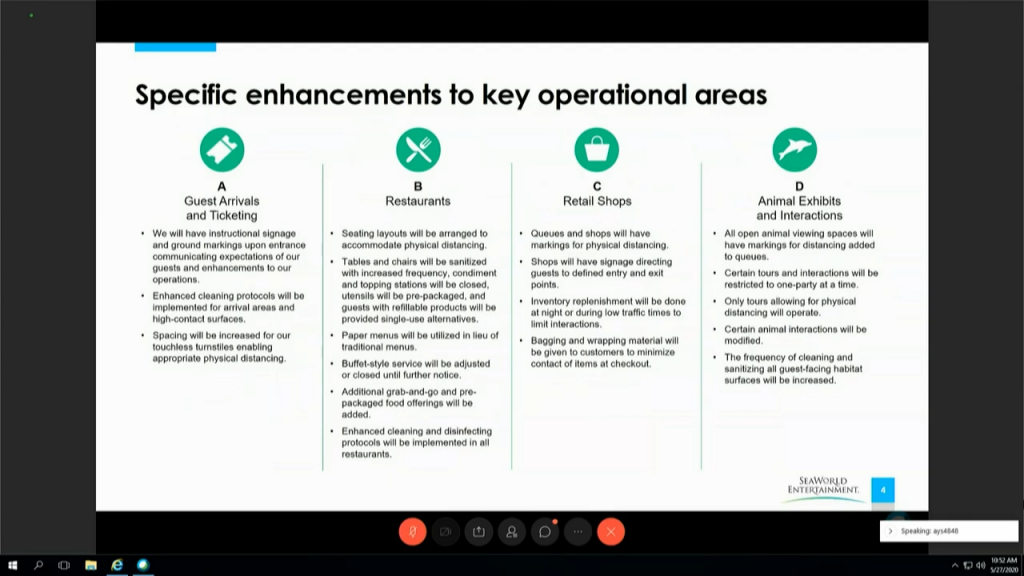 Restaurants will be modified to focus more on pre-packaged meals, and cashless transactions such as Google and Apple Pay will be encouraged. For in-person dining locations, tables will be spaced out to allow for physical distancing and paper menus will be used. Buffet restaurants will not operate at this time. Retail shops will have dedicated entries and exits in addition to social distancing markers.
SeaWorld's animal exhibits will also have significant modifications, including markers for physical distancing and regular sanitizing of handrails. Animal presentation venues such as Orca Encounter, Dolphin Days, and Sea Lion High will also use markers to allow for social distancing.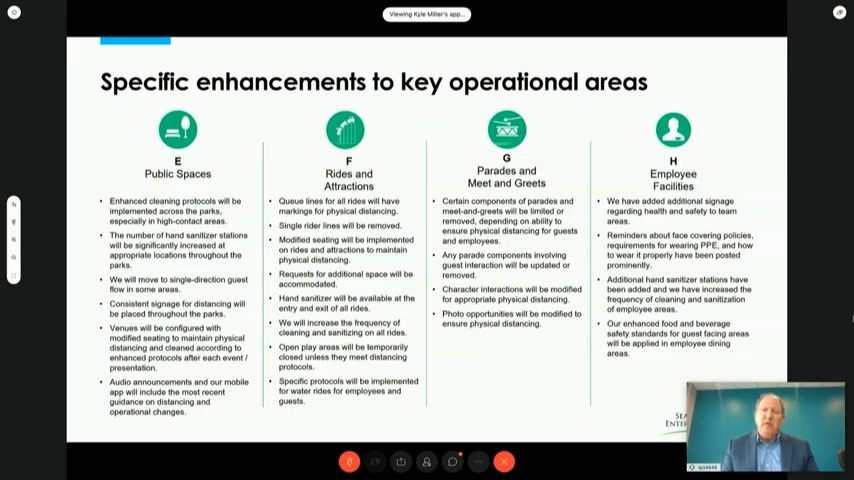 In a similar way, social distancing markers will be placed in the queues for rides and attractions, and guests will be spaced out on coasters to maintain a safe distance. Although Swanson did not explicitly state so, it seems that masks will still be required on the park's roller coasters. Last week, park employees rode Mako and Kraken with face masks and social distancing, giving us a clue of what may be seen in the future.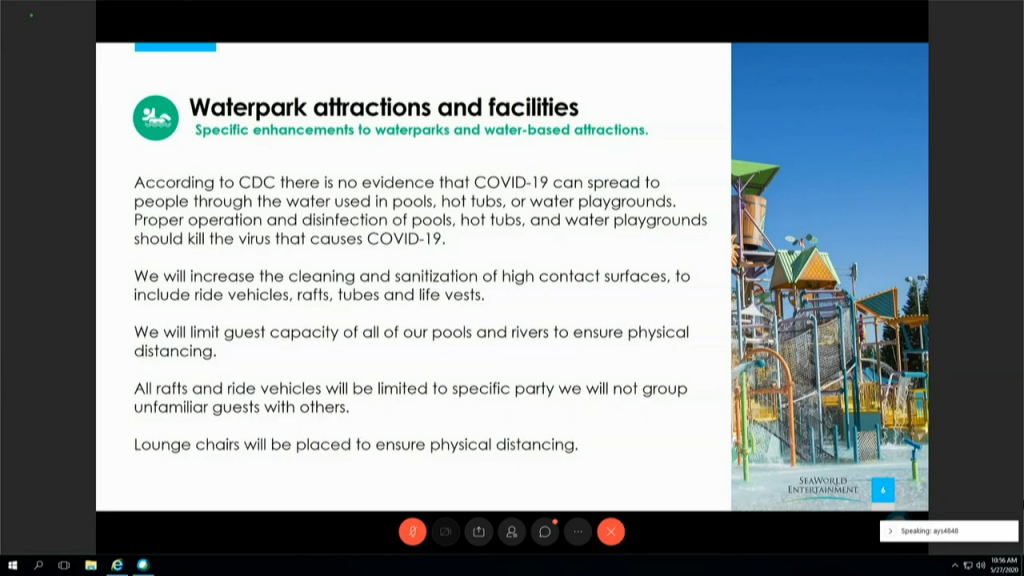 There will also be significant changes to the operations of Aquatica and Discovery Cove. Physical distancing will be enforced, and ride vehicles will only be shared by members of the same party.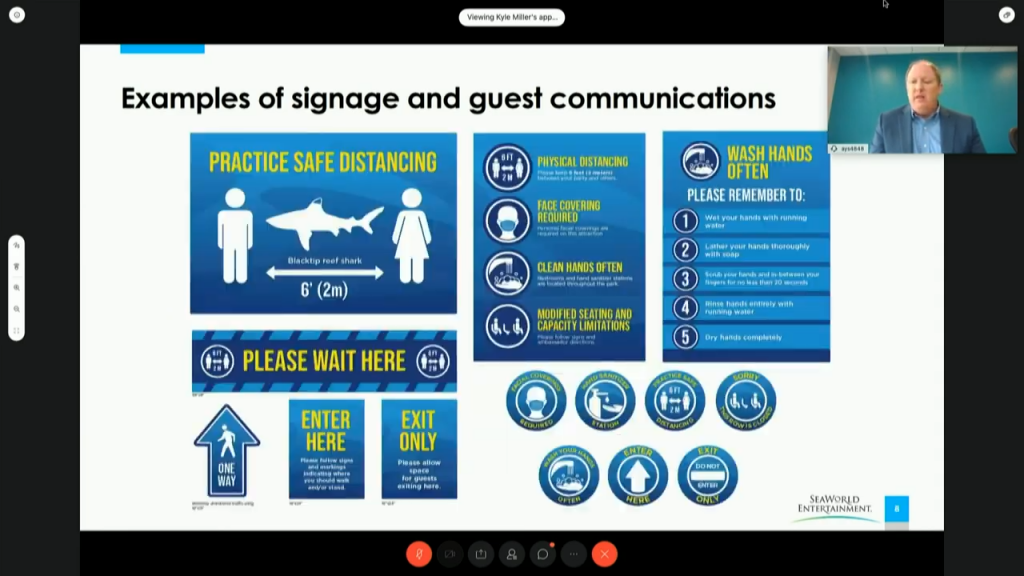 SeaWorld officials did not seem to be concerned about having to strictly enforce mask-wearing policies – SeaWorld's CEO said, "I think people just want to come out and have a good time at theme park, and wearing a mask will be one of those parts of doing that." Signs regarding physical distancing and hand-washing guidelines will be posted around the parks to promote safety for park guests and employees.
SeaWorld's reopening plan was approved by the task force and the Governor of Florida gave final approval on May 29th.
Stay tuned for more from SeaWorld, and be sure to get social with us on Facebook and follow along with us on Twitter @BehindThrills for the latest updates!