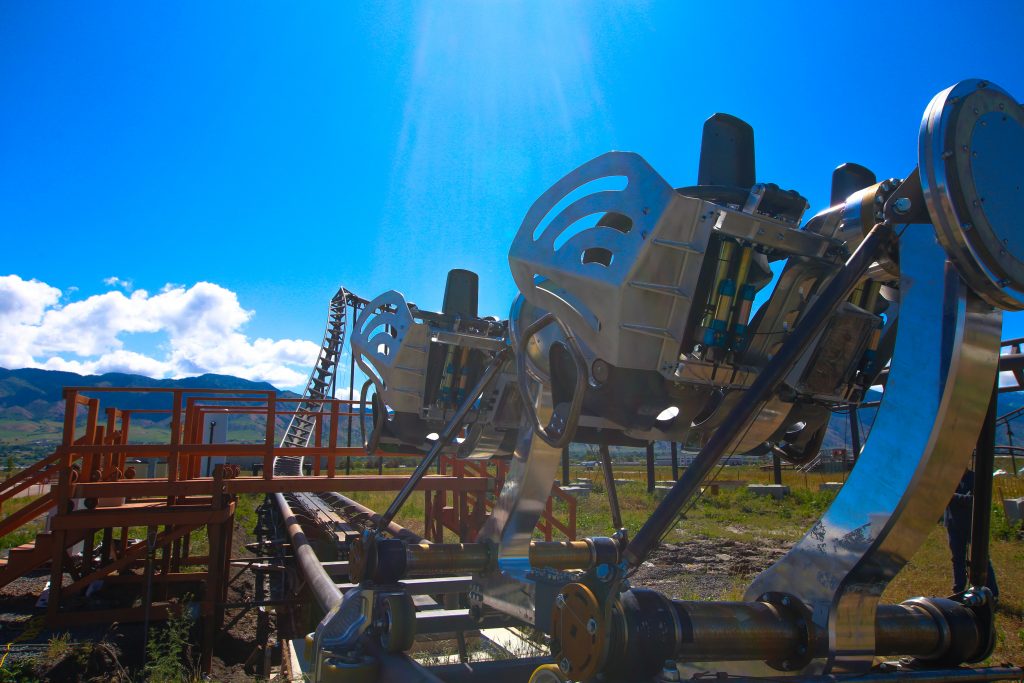 What would happen if you put a swing set on a rollercoaster? That is the question S&S seems to be after trying to find an answer for with their newest creation: AXIS. We've all heard of 4D coasters before: Roller Coasters that are capable of not just moving along the track, but rotating in some way as they do. A few companies have even made attempts at it, with Arrow introducing the first one to Six Flags Magic Mountain titled X -a coaster responsible for their costly bankruptcy, now known as X2. Then there was S&S 4D Freespins, and even Intamins 4D Zacspins.
While the Intamin Zacspin never took off though, S&S struck gold. Using RMC I-Box designed track in a compact layout of tracking stacked on itself these winged coaster seats flip riders through a random number of inversions as the seats freely rotate forward and backwards. Most famous for these clones ending up in Six Flags parks around the United States, 4D Freespins took off. Could we be getting ready to see history repeat itself though? Could S&S have the next "clone me" roller coaster? I hope so.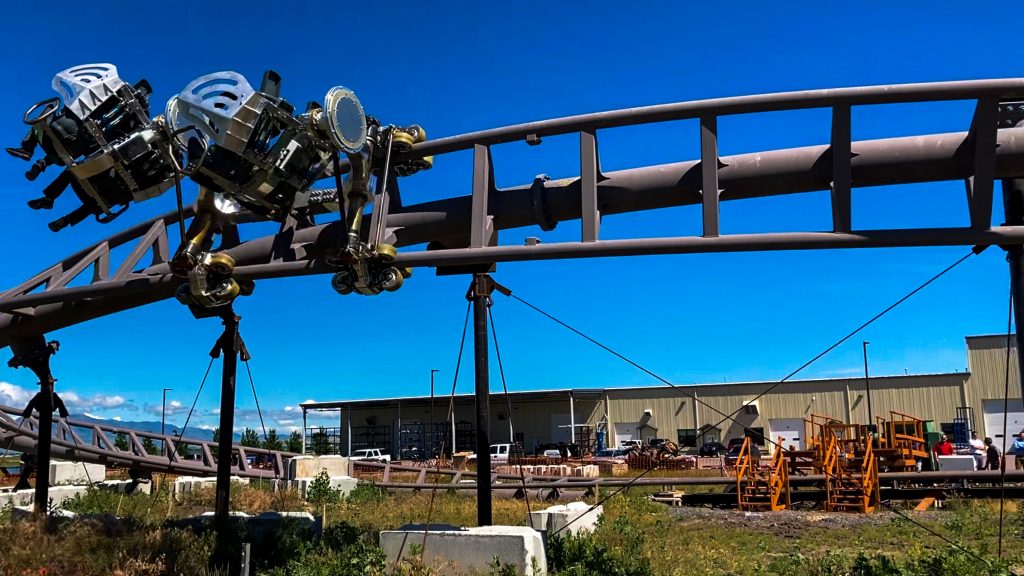 Sitting in the middle of a field behind a warehouse is an unexpected place for a high speed thrill ride of any type. It's an even stranger place for a groundbreaking coaster with a never before seen design, but that's where this one is. That warehouse isn't just a warehouse either. It's home to Sansei Technologies. A company that started out building launch towers using an air launch system. They one day had the idea of using that system on a roller coaster – Hypersonic XLC. Known for making some of the most intense launch's in the industry, with extreme speeds in unimaginably short span's of time. How short? Well, this prototype did about 0-70 in 1.8 seconds. That's faster than a mini-van for sure. Some of their rollercoasters include Powder-Keg at Silver Dollar City, Do Do-Dodonpa at Fuji-Q Highland, 4D Freespins such as Batman at Six Flags Fiesta Texas and clones of it at a handful of other parks, new for 2019 Steel Curtain at Kennywood and Max's Force at Six Flags Great America.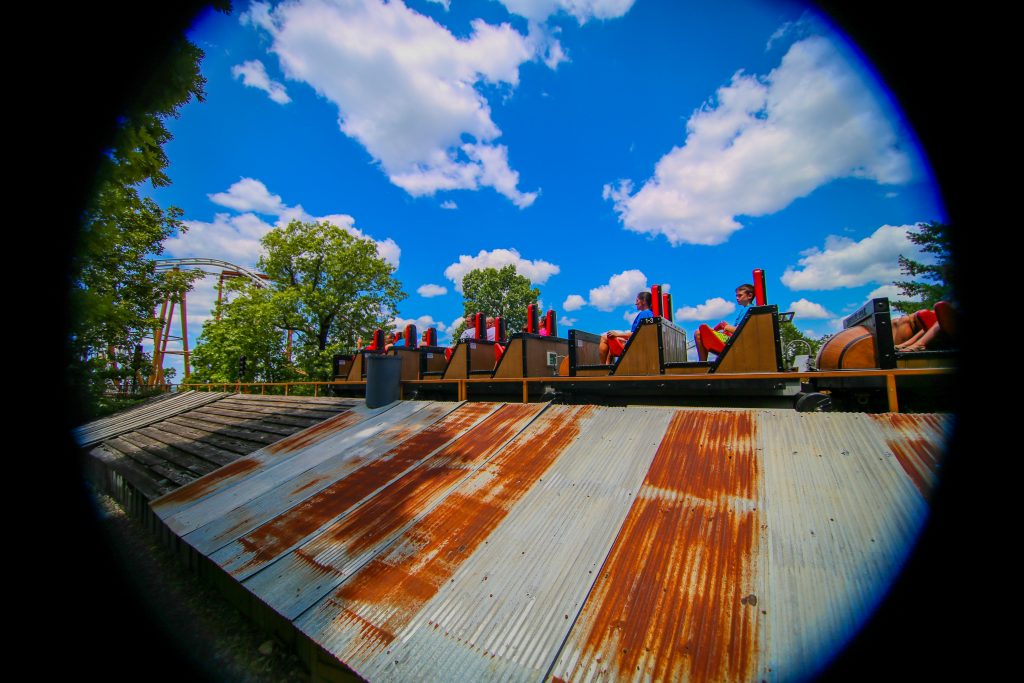 So, What is Axis? Well, it's a 4D rollercoaster of a new generation. This version does not flip forward and backwards as the previous 4D roller coasters have before it. These new AXIS coasters flip side to side. These versions of the 4D roller coaster swing. In a way it is as if your seat is separate from the roller coaster cart. It's as if this roller coaster has two parts that you ride simultaneously, the one you sit in, and the one attached to the track. Unlike a traditional roller coaster there is no way to predict what the seat is going to do through each element as a rider. In a traditional inverted roller coaster you can see an inversion coming. This isn't a traditional coaster though, and that brings us to the experience itself:
After boarding the train and realizing just how "freely" the seats move I was surprised: When you sit down the seats sway. It's better if you ride with someone to sit at the same time to help balance out this effect. There is something to note here though, and that is that while the seats do have swing to them when boarded every element is designed to do what S&S intended. For S&S there will be no unexpected rotations in this 4D ride – a major difference between it and the 4D freespins before. For the rider? Every element is a guessing game. On the "axis" of this coaster is a metal disc that contains magnets. These magnets help to control the rotation of the vehicle, allowing it to perform the insane acrobats it does.
…..and now that I'm strapped in here those acrobatics come: I hear the tank building pressure, and just as I'm about to say "any minute now…" like a canon I reach 70 miles per hour in less tracking than some kiddie coasters have in their layout. I'm tossed out of my seat as the vehicle does a summersault over itself. There was something strange about this inversion though; I went upside down, but the track didn't. At that moment instead of being on top of the track as I started, or below the track because of an inversion, I'm off to the side of the track. Wait, this isn't a wing coaster? Why are we….I'm tossed over the top of the track all the way under it, and now I start to understand: There are no limits here. A sharp bank tilts the car to a near perfect 90 degrees and I'm back where I started. After rolling back up the first section of track and back down I pick up a fair bit of speed again and am taken through the second half of the course in reverse – floating back over the top and starting forward again, I finally rock to a stop.
Click to continue reading on Page 2: