Six Flags Magic Mountain annnounced Wonder Woman Flight Of Courage in the Fall of last year. July 16, 2022 it opened to the public.
Rocky Mountain Construction broke onto the scene about a decade ago. Since then they have been adding innovation to coasters from the day they came out with New Texas Giant: A hybrid conversion of an old wooden coaster. RMC made so many waves that there is already a documentary about them called This is how we roll. Shortly after their conversion rides of old wood coasters they came back out with another heavy hitter when they released Wonder Woman at Six Flags FiestaTexas and Railblazer at California's Great America – the first two single rail coasters.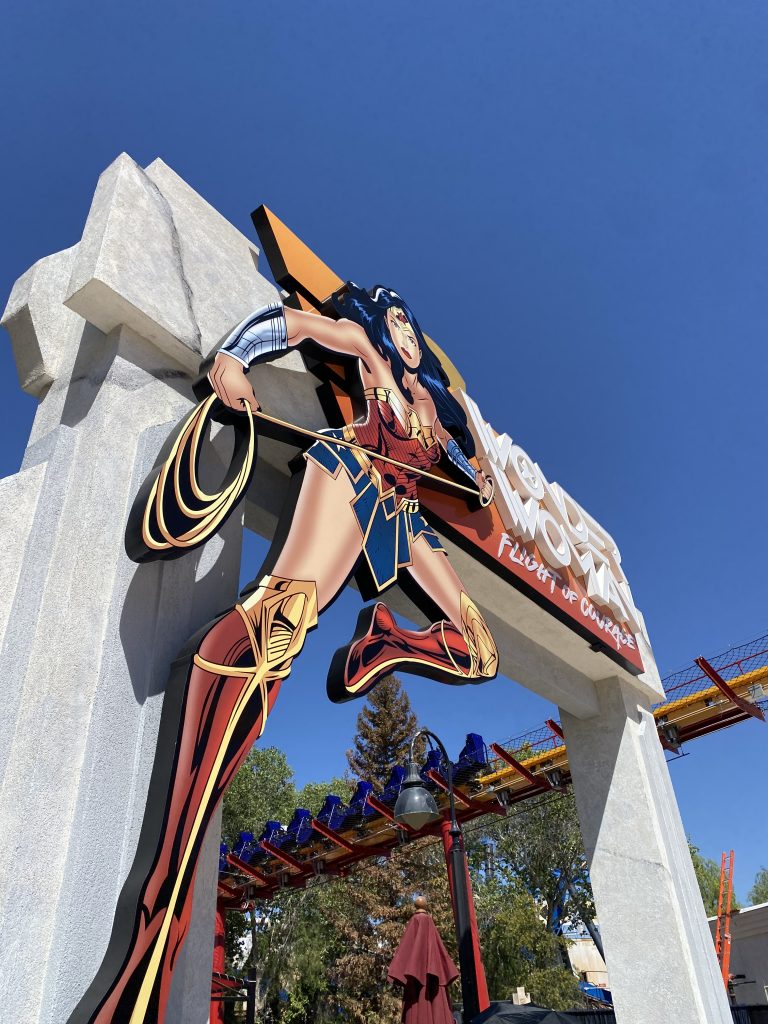 In 2021 we saw Jersey Devil come to Six Flags Great Adventure in New Jersey: A taller version of the single rail coasters. Now in 2022 we have a new record holder. Standing at 131 ft tall, and 3300 ft of track length, with a top speed of 58 MPH. The new single rail features the same 12 person trains where guests sit one behind the other. The single rail model allows for an aggressive ride in a fast flowing and smooth experience.
Wonder Woman replaced Green Lantern at Six Flags Magic Mountain, a ride many despised. It sits near Batman and Riddlers Revenge.
The original custom layout single rail – Jersey Devil – carries a similar layout with slight changes. It is slightly shorter than the new for 2022 Wonder Woman Flight of Courage in the first drop and a few other minor changes after the second brake run. Theres an overbanked turn and two outward airtime hills that follow Jersey Devil – then the changes begin. The first is that there is now an airtime hill, followed by an outward banked hill with a final overbanked turn going directly over the entrance of the ride.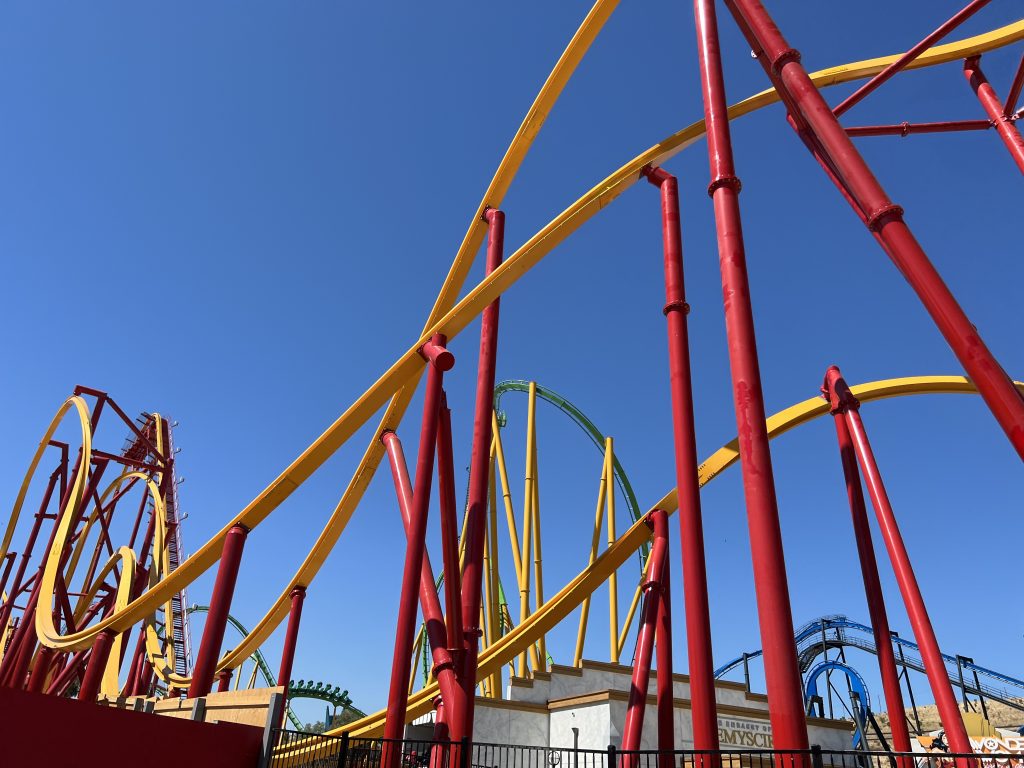 These longer models tend to be slightly less aggressive than the clone models, but offer a more well rounded and complete ride experience. The clones are less than 30 seconds of ride time, where these longer models are at least double that! These longer model's of the single rail coaster also offer another unique feature: The further back on the train the more intense the ride get's – to a noticeable difference! This is a coaster that would be a great way to step people up to more intense ride experiences: Starting them near the front of the train and working their way back. Often there are slight differences in how a ride feels, but with these long slim 12 person trains the difference is staggering. The back row is a fantastic thrill throwing you out of your seat at every chance, while the front is a tame experience with slight forces of airtime and positive G's.
It is exciting to see new innovation within the industry. Sometimes the theme park industry takes massive leaps forward before stagnating again for a few years. RMC showed up with innovation in mind and has not stopped since they got going. Where will they go next? I personally am not sure, but they sure are showing a good bit of a flight of courage with their willingness to try new things. Six Flags Magic Mountain's newest coaster: Wonder Woman's Flight Of Courage is open now, giving California the newest, and tallest Single Rail Coaster!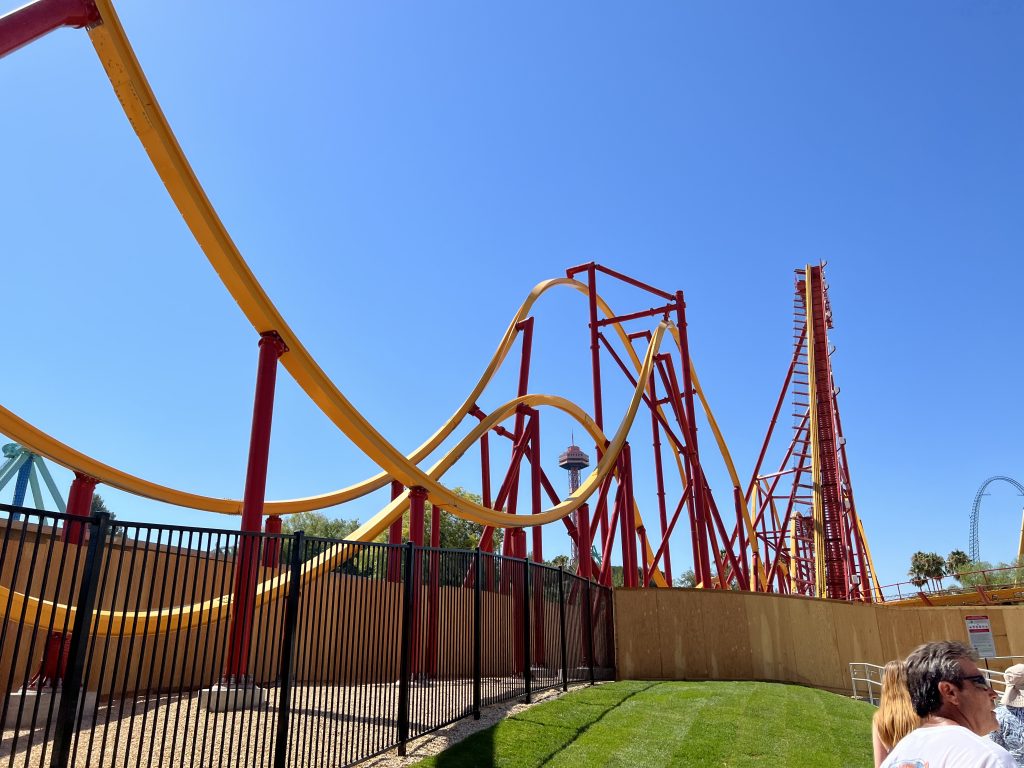 Stay tuned for more theme park information, and be sure to get social with us on Facebook , Instagram, Twitter @BehindThrills for the latest updates! For our latest theme park videos please be sure to subscribe to us on YouTube!
Written by: Justin Landers – 31 year's old and owns Just Shoot Light Multimedia Productions, a freelance photo and video company involved in the theme park industry since 2013. You can find him on Instagram at @Inverted_Therapy and @Just_Shoot_Light and on YouTube or Facebook.
**PHOTOS PROVIDED BY: Freddy Mulbarger: https://www.instagram.com/mulbytime/