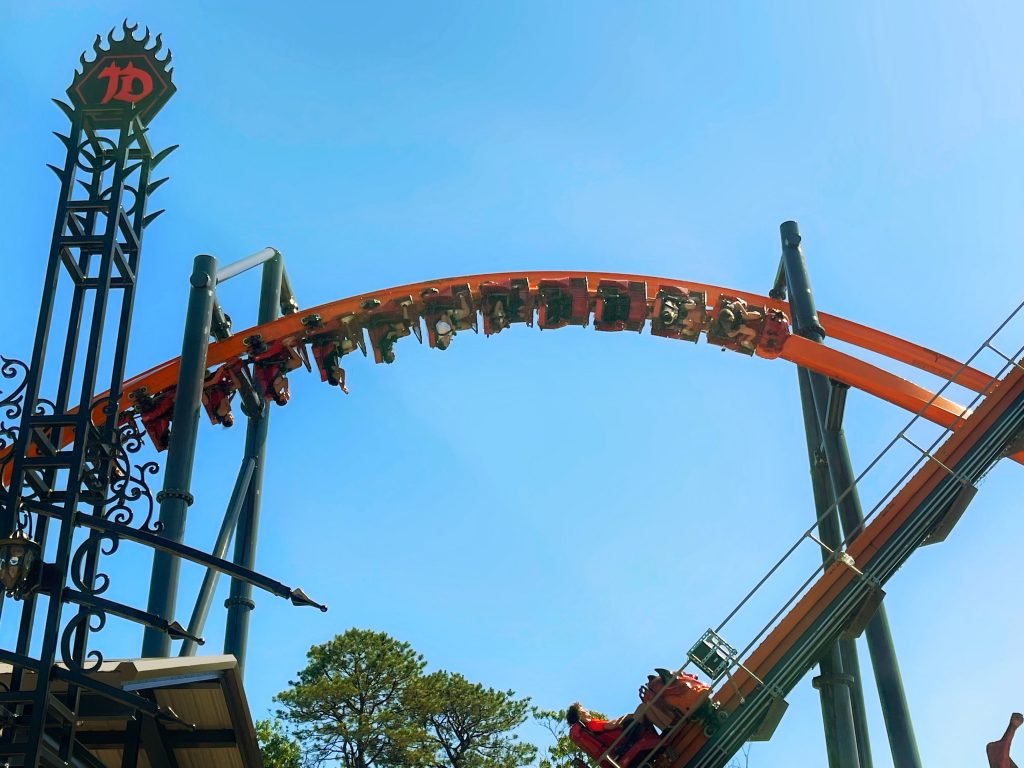 When you hear those two words "Jersey Devil" what do you think? Maybe it's "no no, the devil went down to Georgia not jersey…"
Did you know that jersey has its own history with the devil though? A myth of folk lore from early Philadelphia and Southern New Jersey times, also known as the Leeds Devil is said to inhabit the Pine Barrens of South Jersey. The origins of the story as told by Wikipedia:
"According to popular folklore, the Jersey Devil originated with a Pine Barrens resident named Jane Leeds, known as "Mother Leeds". The legend states that Mother Leeds had twelve children and, after finding she was pregnant for the thirteenth time, cursed the child in frustration, crying that the child would be the "devil". In 1735, Mother Leeds was in labor on a stormy night while her friends gathered around her. Born as a normal child, the thirteenth child changed to a creature with hooves, a goat's head, bat wings, and a forked tail. Growling and screaming, the child beat everyone with its tail before flying up the chimney and heading into the pines. In some versions of the tale, Mother Leeds was supposedly a witch and the child's father was the devil, himself. Some versions of the legend also state that there was a subsequent attempt by local clergymen to exorcise the creature from the Pine Barrens."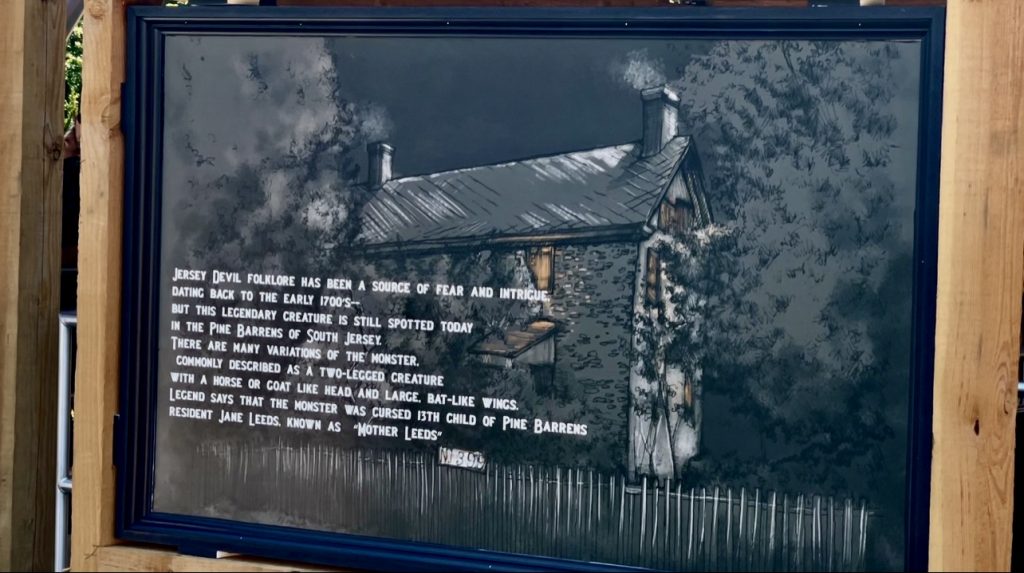 So…what does this have to do with Theme Parks, or Roller Coasters? Well, now it's true…the Devil went down to Jersey. 
It's no secret, I'm a fan of Rocky Mountain Construction (RMC) and their rides. I've now ridden almost all their coasters in the United States – though that list is hard to complete with the way Busch Gardens is acting. Fortunately; Six Flags is giving us a new RMC – and fast.
Construction in Jersey Devil started after Iron Gwazi was topped off; and yet it is already operating. Part of that is a testament to how fast this style of coaster goes up. What style is that? Well – a Raptor track Single Rail. Heard of Wonder Woman at Six Flags Fiesta Texas? Or maybe RailBlazer at Cedar fair's park California Great America? Those were the first of their kind raptor coasters – mirror clones of each other; joined now by stunt pilot at Silverwood – another clone with slight modifications.
Jersey Devil however; is something new.
It's the first RMC Raptor with a custom layout. A larger, stretched out layout.
Sitting in the back of the park near Nitro sits an old devil statue from the Larson Loop that used to stand in the park. This statue marks the start of the devil's territory. A 130 foot lift hill towers behind it. As you work through the line there's signs marking the history of the jersey devil. You enter the station and the trains keep rolling – quickly you are assigned a seat – hope for a back row here – and off you go. The lap bar comes down around you, and tucks around your legs with a harness around your shoulders, all while the train continues to roll through.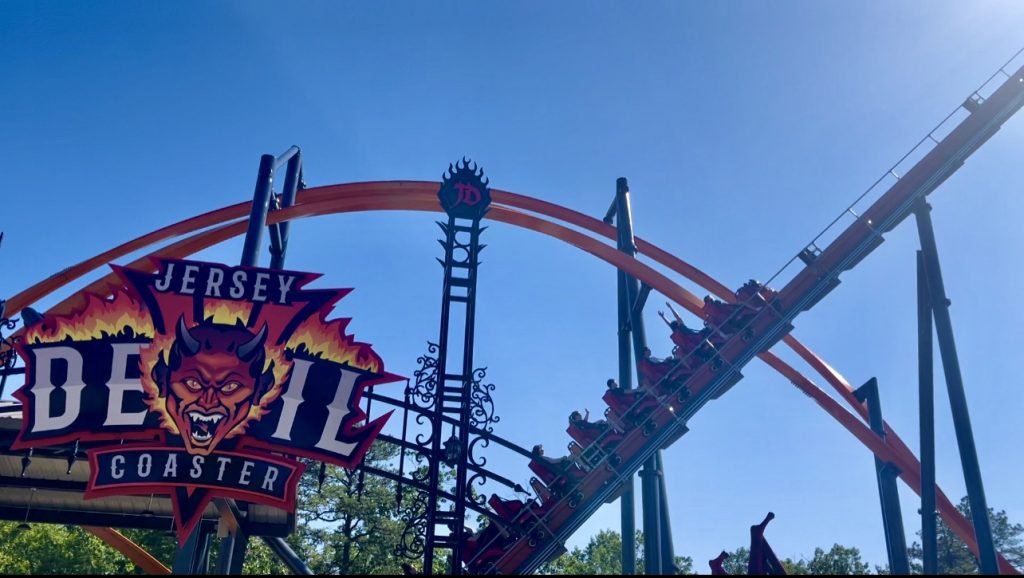 Click. Click. Click. The chain locks in and you're pulled up the lift hill. Loudly. Possibly the loudest lift in the park. Once you crest the top what you feel will depend on your seat – in the front a moment of hang before the drop, in the back you can expect to be pulled from your seat and thrown down the first hill.
Then straight back up into an inversion leading to a dive loop – the same first element you find on the clones. This is where things really pick up as the next set of elements come fast.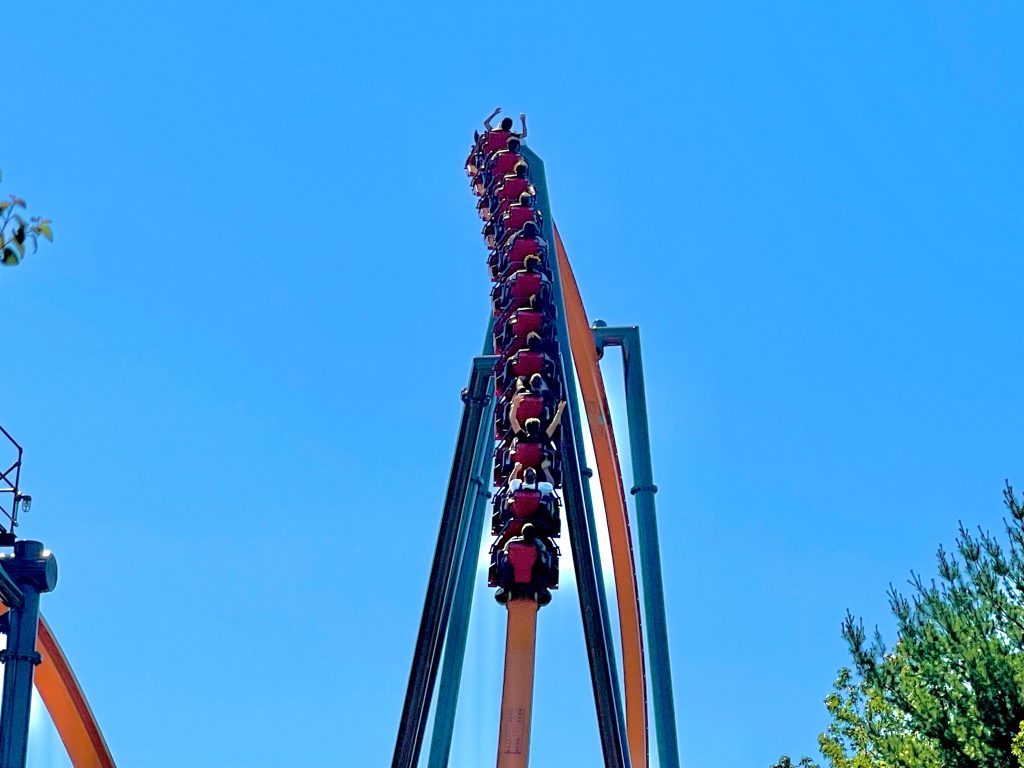 An airtime hill leads into the first zero G stall on a raptor – and a killer moment at that. This stall soars past the entrance giving guests a tease of what's to come as they await their meeting with the devil. As the rider you are hung upside down quickly – in a much more free feeling than the Zero G stalls found on RMC I-box rides such as Goliath at six flags Great America or Twisted Colossus at Six Flags Magic Mountain. 
Following this stall you pop into a turn around then drop off into a quick roll directly next to the zero G stall, then come into the brake run.
This is where the ride slows down a bit. The ride drops off the brake run, into a sharp low slightly banked turn around, followed by a set of off axis airtime hills and one final pop of airtime then a slide into the final brake run.
Aggressive? Yes. As aggressive as the clones discussed at the start? No. Great ride? Absolutely AMAZING.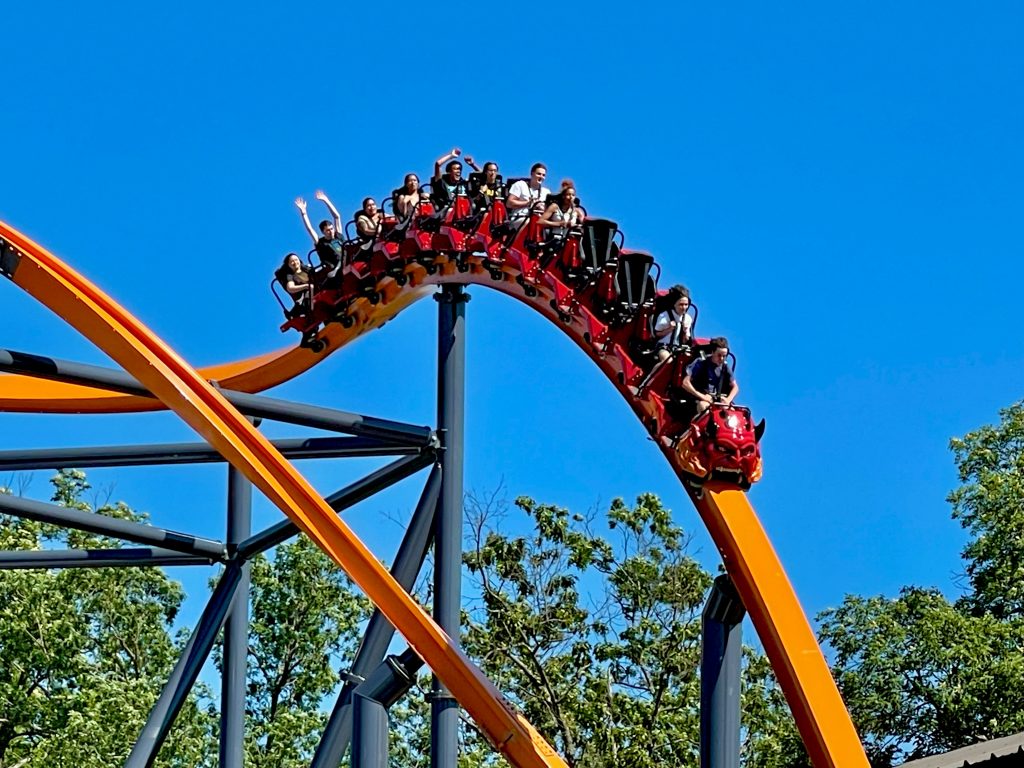 Rocky Mountain Construction continues to innovate. They started with their I-Box conversion of Texas Giant for Six Flags, and it has been a long standing and wonderful partnership. It has led to creation after creation of incredible conversions, and brand new styles of coaster we have not seen before. They have quickly become an innovator in the industry, causing companies to try to mimic their creation. Even though GCI created a copy of the I-box with their Titan track, and Intamin went ahead with a copy of the Raptor track style major parks continue to contact RMC to do what they do best: create monsters. This time around, RMC really brings the Devil out to play. I can't wait to see what they bring next.
It's a perfect fit for the park. The devil certainly owns that section. For me it's a great addition and a perfect round out. I will be sure to get a few rides in next time I visit, right after I'm done visiting the Bull at El Toro.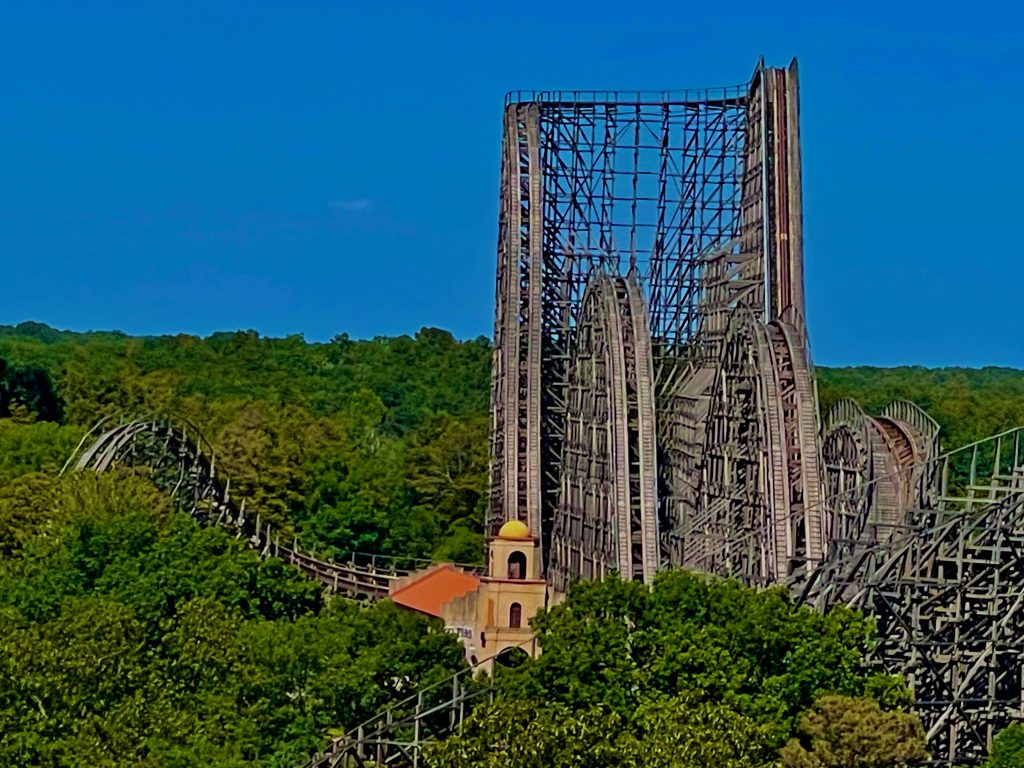 Stay tuned for more theme park information, and be sure to get social with us on Facebook , Instagram, Twitter @BehindThrills for the latest updates! For our latest theme park videos please be sure to subscribe to us on YouTube!
Justin Landers is 30 year's old and owns Just Shoot Light Multimedia Productions, a freelance photo and video company involved in the theme park industry since 2013. You can find him on Instagram at @Inverted_Therapy and @Just_Shoot_Light and on YouTube or Facebook.